Useful Hebrew phrases
A collection of useful phrases in Hebrew with recordings for most of them.
Key to abbreviations: m = said by men, f = said by women, >m = said to men, >f = said to women.
Click on the English phrases to see them in many other languages.
Note: While Christmas and Easter are not celebrated by Jews, there are some Hebrew-speaking Christians, so it is appropriate to include translations of Merry Christmas and Happy Easter here.
Download all the audio files (Zip format, 721K)
If you would like to make any corrections or additions to this page, or if you can provide recordings, please contact me.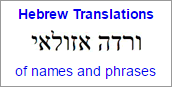 Other collections of Hebrew phrases
http://www.learn-hebrew-phrases.com
http://www.hebrewonline.com/Hebrew_category/1-1.htm
http://linguanaut.com/english_hebrew
http://www.headcoverings-by-devorah.com/Hebrew_Phrases.htm
http://www.in-hebrew.co.il
Information about Hebrew | Hebrew phrases | Hebrew numbers | Tower of Babel in Hebrew | Biblical Hebrew video lessons | Modern Hebrew video lessons | Hebrew links | Hebrew learning materials
Join the eTeacher affiliate program and earn money from your website
Phrases in Afroasiatic languages
Amharic, Arabic (Egyptian), Arabic (Lebanese), Arabic (Modern Standard), Arabic (Moroccan), Assyrian, Hausa, Hebrew, Maltese, Somali