Useful Moroccan Arabic phrases
A collection of useful phrases in colloqiual Moroccan Arabic, a variety of Maghrebi Arabic spoken in Morocco.
To see these phrases in many other languages click on the English versions.
Key to abbreviations: >m = said to men, >f = said to women, pl = said to more than one person
If you would like to make any corrections or additions to this page, or if you can provide recordings, please contact me.
Information about Moroccan Arabic | Phrases | Tower of Babel | Arabic learning materials | Books about the Arabic script | Arabic electronic dictionaries and translators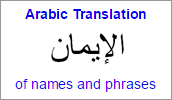 Links
Other collections of Moroccan Arabic phrases
http://www.morocco-guide.com/language/useful-moroccan-phrases/
http://wikitravel.org/en/Moroccan_Arabic_phrasebook
http://www.5min.com/Video/Moroccan-Arabic---learn-to-greet-people-150760438
http://www.youtube.com/watch?v=4lxVmrY8Y2Y
http://www.31best-riad-marrakesh.com/learn-moroccan-arabic/
Phrases in Afroasiatic languages
Amharic, Arabic (Egyptian), Arabic (Lebanese), Arabic (Modern Standard), Arabic (Moroccan), Assyrian, Hausa, Hebrew, Maltese, Somali