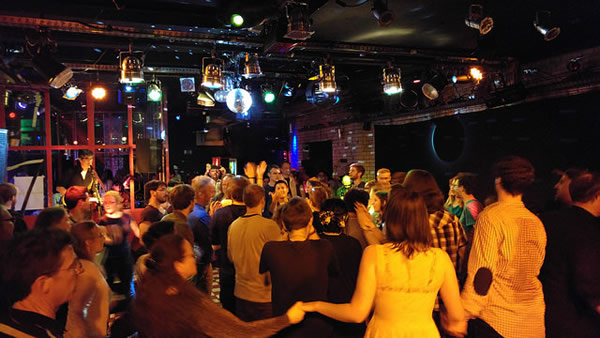 I got back from the Polyglot Gathering in Berlin late on Monday night. I travelled by train the whole way, which is a bit more expensive than the plane, and takes a few hours longer, but I prefer to travel this way, and you see more. The journey went smoothly, apart from the train from London, which was an hour late getting into Bangor. Fortunately I got a partial refund on my ticket. On the Eurostar I talked to a interesting lady from Vancouver, and on the train to Bangor I talked, mainly in Welsh, to a doctor from Felinheli.
This year's Gathering was as much fun as previous years – it was my third. I arrived in Berlin quite late on Wednesday evening the day before it officially started, and missed out on most of the polyglot games that were going on in the afternoon and evening. Next year I might arrive a day or two before the start to give me a chance to explore more of Berlin – this year I spent most of my time in the venue and didn't go exploring.
Over the next four days I learnt about many things, including Portuguese-based creoles, Greek, minimalism, Sardinian languages and dialects, why many language learners don't acquire native-like accents, metaphors in native Canadian languages, language mentoring, how musical techniques can be applied to language learning, the stagecraft of multilingualism, and much more. I got to know old friends better, met lots of new ones, and I spoke lots of different languages. My talk on Manx went well, as did the introduction to Welsh that I helped with.
The talks were mainly in English, with some in French, Italian, German, Esperanto, Dutch, Spanish, Russian, Indonesian, and in various combinations of these.
Between us we polyglots speak quite a few different languages. The most common (i.e. those with quite a few speakers / learners) include English, French, Spanish, Italian, Portuguese, Catalan, Romanian, Esperanto, German, Dutch, Swedish, Norwegian, Danish, Russian, Czech, Slovak, Polish, Serbian, Greek, Finnish, Hungarian, Welsh, Irish, Mandarin, Cantonese, Japanese, Korean, Indonesian, Malay, Arabic, Persian, Hebrew and Swahili. There were also speakers and learners of Wolof, Punjabi, Hindi, Marathi, Romani, Tamil, Latin, Scottish Gaelic, Manx, Cornish, Breton, Sardinian, Luxembourgish, Latvian, Lithuanian, Macedonian, Bulgarian, Slovenian, Albanian, Basque, Tagalog, Turkish, Navajo, Toki Pona, Klingon, and probably other languages.
I'm looking forward to the next polyglot event – the North American Polyglot Symposium in Montreal in July. I'll be doing a talk on the origins of language there, so should get working on it.
Some things I learnt from the Gathering
There are many ways to learn languages, and no single way will work for everyone. Some like to focus on one language at a time until they have reached a level they are happy with, then move on to the next language; others like to study many different languages at the same time. Some learn grammar and vocabulary first, then learn to speak; others start using their languages straight away, or soon after they start studying. Some like to study on their own; others like to study in a class and/or with a private tutor. Some combine many of the above and more, to varying degrees – I certainly do.
From Malachi Rempen's talk on cartooning, minimalism and language learning (Less is More: What Silly Doodles Can Teach Us About Fluency), I learnt that you can do a lot with a little. He showed how he can make his Itchy Feet character express a wide variety of emotions with just a few lines, and suggested that the same can be applied to languages – you can communicate even if you know only a little of a language. He also argued that fluency means different things to different people, and might not be the best thing to aim for.
Tim Keeley, professor of Cross-Cultural Management at Kyushu Sangyo University in Fukuoka, explained that the idea that only children can acquire native-like accents in foreign languages is wrong – the brain is flexible throughout live and you can learn to perceive and produce foreign sounds. However there are emotional barriers which stop many people from sounding 'native'. When learning another language you can also take on or create a new identity, and those who are willing and able to do this are most likely to sound more like native speakers. You also shouldn't worry about mimicking people. In fact that is a good way to acquire native-like pronunciation.
Michael Levi Harris, an actor and polyglot from New York, talked about parallels between learning a part and learning a language. He explained that actors tend to exaggerate speech and physical mannerisms when learning a part, then make them more subtle, and that language learners can try the same things – exaggerate the pronunciation, gestures, etc. until they become second nature, then tone them down. He also talked about taking on different identities when speaking different languages and with different accents. If you can find a native speaker of a language whose voice and mannerisms appeal to you, then you can create your character in that language based on them.
The extend to which you take on a new identity in a new language depends on how much you want to integrate into a new culture. If you want to be taken for a native, then you need to sound and act like them. Alternatively you could try sounding like a native, perhaps with a bit of a foreign accent, but not worry so much about acting like them. If you spend a lot of time in a different county interacting and observing the natives, you're likely to pick up at least some of their behaviour anyway.
Fiel Sahir, an Indonesian-American musician and polyglot who currently lives in Germany, talked about applying musical techniques to language learning. He explained how practice is the key to music and language, but it has to be intelligent practice that focuses on areas that you find difficult. This might be particular passages in a piece of music, or particular tenses or noun declensions in a language. By focusing like this, you can make a lot of progress.
Focus is something that I find difficult sometimes. I can and do focus, but often get distracted. I was thinking about how I've been dabbling with a variety of languages recently and not making a lot of progress in any of them. So my plan is to focus on one, or two, languages for the next year – Russian and Czech – and learn as much as I can in them. I will keep my other languages ticking over, but not spend much time on them.