Ukrainian Latin alphabet (Latynka)
The Ukrainian language had been written in the Latin alphabet (Latynka) since the 16th and 17th centuries. The versions used for publications closely resembled the Polish and Czech alphabets. Moreover in the 19th century a Ukrainian priest and scholar from Lviv, Josyp Łozynski Ivanovyč, the author of the publication, Ruskoje wesile (1834), tried to promote the idea of Ukrainians using the Latin alphabet.
During the rule of the Austro-Hungarian Empire, the authorities, in an attempt to westernize Ukrainians, initiated this project under the supervision of a Czech politician Josef Jirecek. The authorities went as far as to impose the alphabet on the locals. This attempt was fiercely opposed because it tried to assimilate Ukrainians, making them seem more Polish.
In 1927 at a conference in Kharkiv, linguists M. Johansen, B. Tkačenko and M. Nakonečnyj proposed the use of a more international Latynka for Ukrainian. This idea was strongly opposed by the Soviet Regime.
European-Ukrainian Latynka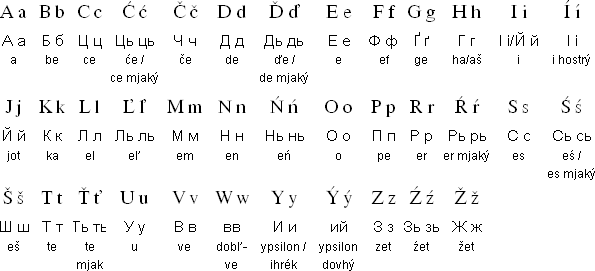 Notes
An additional letter from German may be used for foreign loan words such as déjà vu (дежа вю) and communiqué (комюнікé) - Ü ü or the digraph IU iu - eg deža vü, komüniké or deža viu, komiuniké
More details of European-Ukrainian Latynka (PDF, 145K)
The orthographic rules for European-Ukrainian Latynka (see the PDF) were compiled by Maksim Lagoda (shagrirut@yahoo.com)
Sample text in the European-Ukrainian Latynka
Vsi ľudy narodžujuťśa viľnymy i rivnymy u svojij hidnosti ta pravach. Vony nadileni rozumom i sovisťu i povynni dijaty u vidnošenni odyn do odnoho v dusi braterstva.
(Deklaracija Zahaľnych Sprav Ľudyny, Statťa 1)
The same text in Cyrillic
Всі люди народжуються вільними і рівними у своїй гідності та правах. Вони наділені розумом і совістю і повинні діяти у відношенні один до одного в дусі братерства.
(Від Декларації Загальних Справ Людини, Стаття 1)
Translation
All human beings are born free and equal in dignity and rights. They are endowed with reason and conscience and should act towards one another in a spirit of brotherhood.
(Article 1 of the Universal Declaration of Human Rights)
Information about Ukrainian | Ukrainian phrases | Tower of Babel in Ukrainian | Ukrainian learning materials
Slavic languages
Belarusian, Bosnian, Bulgarian, Croatian, Czech, Kashubian, Macedonian, Montenegrin, Old Church Slavonic, Polish, Russian, Rusyn, Serbian, Silesian, Slovak, Slovenian, Sorbian, Ukrainian, West Polesian