The Polyglot Conference is over now for another year, and I arrived back to Bangor yesterday. Although the conference only lasted two days, a lot was packed into that time.
On the Friday I went on a Golden Circle tour with two coach loads of other polyglots. Unfortunately it was a wet, cloudy and cold day, so the views were not great, but the landscape we could see was rather fine.
The first stop was Þingvellir (Thingvellir), a World Heritage Site where the North American and Eurasian tectonic plates meet. It is also where the Iceland parliament (Alþingi) met from AD 930 until 1798.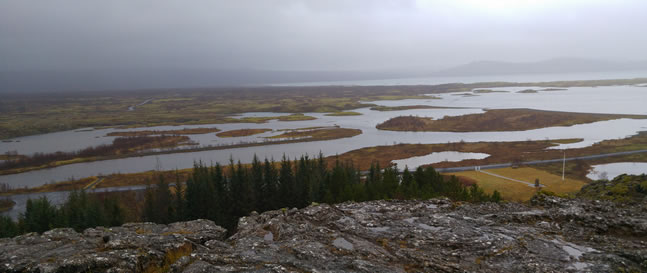 Next we went to Geysir, and area of volcanic activity with a number of sprouting hot springs, including the famous Great Geysir, which is currently inactive, and Stokkur, which erupts every few minutes (see photo below). We also had lunch here – there are a number of eating places and souvenir shops in the complex near the hot springs. I was expecting the whole place to stink of sulphur, but it didn't really.
Our final stop was Gullfoss ("Golden Falls"), waterfalls in the canyon of Ölfusá river. They were spectacular, and well worth seeing.
In the evening, after we arrived back in Reykajvik, I went for dinner at an Indian restaurant with a few other polyglots.
The conference started on Saturday morning with interesting speeches by Dr Sebastian Drude, the director of the Vigdís International Centre for Multilingualism and Intercultural Understanding, and Vigdís Finnbogadóttir, the former President of Iceland and UNESCO Goodwill Ambassador for languages.
Then there were talks on a variety of topics, with themes including Icelandic language and culture, bilingualism and autism, and maintaining 'small' languages. Some of the speakers were lecturers or researchers in universities, others were language enthusiasts. The talks I found most interesting were the one by Daniel Tammet and Sigriður Kristinsdóttir about how he learnt Icelandic in a week with her help; one about bilingualism and autism, one about the cognitive effects of language learning, and one about Mongolian.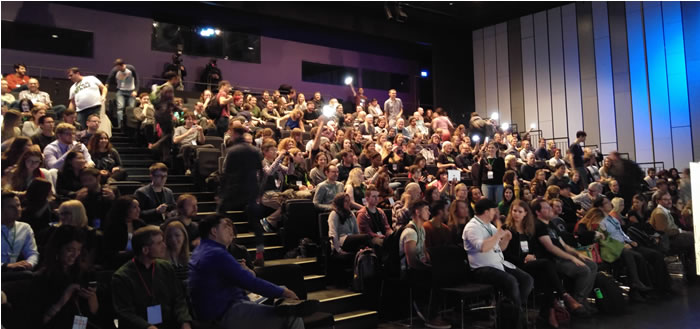 There was plenty of time between the talks and at lunch to catch up with old friends, meet new ones and practise languages. During my time in Iceland, I had conversations in English, Welsh, French, German, Spanish, Italian, Russian, Mandarin, Japanese and Irish, and spoke bits of Czech, Scottish Gaelic, Breton, Manx, Swedish and Icelandic.
Lunch was provided – small sandwiches and wraps, though didn't appeal to me, so I bought something else in a supermarket.
There weren't any organised activities in the evenings, as there are at the Polyglot Gatherings. Instead babbles of polyglots went off to do their own thing. I went for dinner with some polyglot friends and had very interesting discussions about all sorts of things, not all of which were related to languages – we do have other interests.
The next Polyglot Conference will be in Ljubljana in Slovenia from 5-7 October 2018 (as you might have guessed from this photo). So next year I will learn some Slovenian before the conference in Ljubljana, and some Slovak before the Polyglot Gathering in Bratislava in Slovakia.
On Monday I did some work on Omniglot in the morning, explored Reykjavik a bit, had lunch in a restaurant in the old harbour area of Reykjavik, did some more work, then explored a bit more with the two Russian teachers who were staying in the same place as me.
Iceland is a very expensive place, which I expected. Meals in restaurants cost at least twice as much as in the UK, as do most other things. It wasn't as cold as I expected – about 7-10°C during the day and 2-5°C at night. All the locals I met speak very good English, but if you speak Icelandic, they're happy to speak it with you. There are apparently quite a few people who have moved to Iceland recently for work, most don't speak Icelandic. On a clear, dry day, the scenery is spectacular. Even on grey, wet days, it's still impressive and dramatic.
There are some more photos on Flickr: