I got back from the Polyglot Gathering in Berlin about an hour ago. I took the train all the way from Berlin to Bangor, via Cologne, Brussels, London, Crewe and Chester, leaving Berlin just before 7am this morning, and arriving in Bangor just after 9pm this evening. On the way there I also travelled by train, though I had to stay in Brussels for one night, and continued the next day. It cost slightly more than flying (only about £20 more) and took a bit longer (about 2 hours – more on the way there), but I saw so much more, and went through parts of France and Germany I hadn't been before, and visited Belgium for the first time. The engineers on German railways started a 5-day strike today, and I was worried that my trains might not be running. Fortunately they did run, and were more or less on time.
The gathering was bigger than last year with about 350 participants from many countries. There were many people there I knew from last year's gathering, and from the Polyglot Conference in Novi Sad, and I met lots of new people. I had conversations in all the languages I know well, and most of the ones I know less well. There was a Breton speaker there, though I didn't get to talk to him, as well as speakers of Welsh, Irish, Cornish and Scottish Gaelic. Like last year, there were plenty of Esperanto speakers, and I had quite a few conversations in Esperanto, which I brushed up a bit beforehand. There were a number of people who had studied sign languages there, including BSL, ASL, Dutch Sign Language (Nederlandse Gebarentaal / NGT) and Slovak Sign Language (Slovenský posunkový jazyk / SPJ), and the Slovak signer demonstrated how she interprets songs in SPJ, which was fascinating to watch.
The talks and lectures were really interesting, and I went to quite a few introductions to languages, including Northern Sami, Navajo, Arabic, Hebrew, Milanese, Gottlandic, Finnish, Greek and Basque. I don't intend to learn any of these languages just yet, but it was fascinating to find out more about them. My own presentation, on the History of Writing, was well received, and I got lots of positive comments.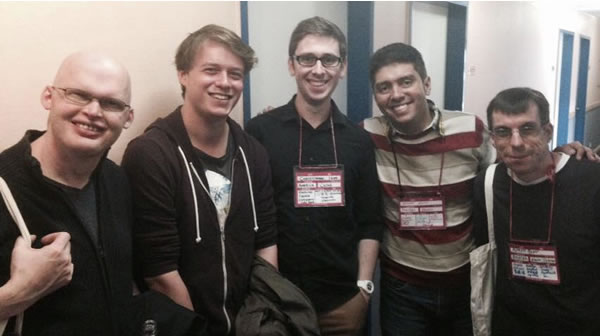 Some of the polyglots at the Polyglot Gathering – from right to left: Richard Simcott, Alex Rawlings, Christopher Huff, Jimmy Melo, and me – between us we speak at least 20 or 30 languages, to varying degrees.
The evening activities included a polyglot games evening, an international culinary festival – I took some Welsh cakes and bara brith, which were popular – a book fair, a polyglot game show, a concert with the multilingual French singer JoMo, who sang in 25 different languages, and an international cultural evening, at which I sang a Scottish Gaelic waulking song (Ceud soiridh soiridh bhuam) and one of my own songs – A Hen in My Hat (in 5 languages). After the cultural evening there was a little Irish and Scottish music session – I had a couple of tin whistles with me, and a few other people had instruments.
So now I'm back in Bangor and will start to catch up with the work I couldn't do while away due to time constraints and internet connection issues.