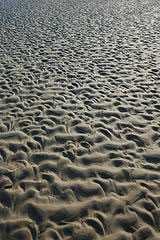 While walking along by estuary of the River Dwyryd at Portmeirion yesterday, the Czech friend I was with asked me the name of the patterns in the sand and mud made by water. I wasn't sure and suggested ripples or sand ripples. She misheard the latter and thought I said sun dribbles, which I really like the sound of.
I checked today and discovered that the marks in sand and mud left by flowing water are known, rather boringly, as ripple marks, or wave-formed ripples, according to Wikipedia.
Do they have more poetic names in other languages?