Podcast: Play in new window | Download
Here's the latest news from the world of Omniglot.
There are new language pages about:
Fordata (vaidida), a Central-Eastern Malayo-Polynesian spoken in the Tanimbar archipelago in the province of Maluku in eastern Indonesia.
Lamaholot, a Central-Eastern Malayo-Polynesian spoken on Flores, Solor and nearby islands in the province of East Nusa Tengara in eastern Indonesia.
Alorese, a Central-Eastern Malayo-Polynesian spoken in the Alor Regency in East Nusa Tenggara Province in eastern Indonesia.
New constructed script: Lofrati, a script invented by Sahin Ozmen that is modelled on Arabic and Hebrew scripts, and is used to write a constructed language by the same name.

New constructed script: Our Secret Garden, a script based on flowers created by Rodrigo Witzel.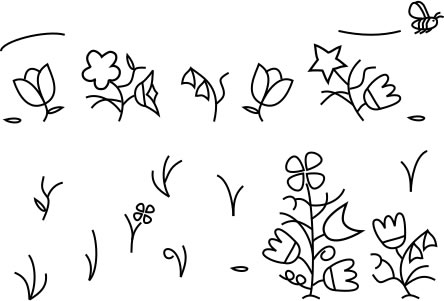 New constructed script: Plutonian, an alternative alphabet for English devised by Aiden Neuding.

New numbers page: Fordata, Lamaholot, Alorese, Bunun, Tsou and Kerinci.
There's a new Omniglot blog post about called Roses (薔薇), about kanji (characters) that Japanese people struggle to write, and the usual Language Quiz. See if you can guess what language this is:
Here's a clue: this language is spoken in the far north of the Russian Federation.
The mystery language in last week's language quiz was Butuanon, a Southern Bisayan language spoken in Agusan del Norte and Agusan de Sul provinces in Mindanao in the Philippines.
In this week's Adventure in Etymology we uncover the fiery origins of the word Bureau.
There are new Celtiadur posts about words for Booths and Seven and related things in Celtic languages.
I also created separate pages the Lota Ende and Incung scripts, and for the Lio and Ende languages, and improved the Kerinci language page.
For more Omniglot News see:
https://www.omniglot.com/news/
https://twitter.com/Omniglossia
https://www.facebook.com/groups/omniglot/
https://www.facebook.com/Omniglot-100430558332117
You can also listen to this podcast on: Apple Podcasts, Amazon Music, Stitcher, TuneIn, Podchaser, PlayerFM or podtail.
If you would like to support this podcast, you can make a donation via PayPal or Patreon, or contribute to Omniglot in other ways.
Radio Omniglot podcasts are brought to you in association with Blubrry Podcast Hosting, a great place to host your podcasts. Get your first month free with the promo code omniglot.