Podcast: Play in new window | Download
Here's the latest news from the world of Omniglot.
There are new language pages about:
Taiwanese Hakka (Thòi-vân Hak-fa), a group of Hakka dialects spoken in Taiwan.
Samogitian (žemaitiu kalba), an Eastern Baltic language spoken in the Samogitia region in the west of Lithuania.
Ughele, an Oceanic language spoken on Rendova Island, one of the New Georgia Islands in the Western Province of the Solomon Islands.
New constructed script: Verical, an alternative script for English created by Arcee Gonepike.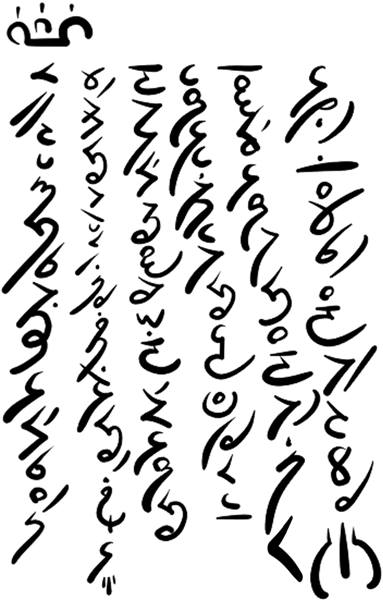 New adapated script: Urduk Cyrillic (Урдӯк Сӣрӣлик), a way to write Urdu with the Cyrillic alphabet devised by Damian Izrullah bin Abdullah.
Танāм инсāн āзāд ōp huқӯқ изёт Ке етибāp ce барāбар педā һӯ'e heнь. Инһень замӣр ōp aқёл ўадӣ'ат һӯ'ӣ һэ. Ислийе инһень ек дӯсре ке сāтһъ бһъаи чāре ĸā cëlӯĸ ĸapнā чаһи'е.
There are new numbers pages in:
If you give someone Short Shrift, you ignore, disregard or exclude them, or give them little time or attention. What is shrift though, and why is it short? Find out in this Omniglot blog post. There's also the usual Language Quiz. See if you can guess what language this is:
Here's a clue: this language is spoken in Canada.
The mystery language in last week's language quiz was Dhuwal, a Yolŋu language spoken in the Northern Territory of Australia.
There are new Celtic cognates pages with the names of various Countries and Languages in Celtic languages.
There's a new Celtiadur post about words for Hooks and Crooks and related things in Celtic languages.
On the Celtic Pathways podcast we're rounding up some words for Mutton, sheep and related things.
In the Adventure in Etymology we're calmly looking into the origins of the word Nonchalant, and asking, if you can be nonchalant, can you also be chalant?
For more Omniglot News see:
https://www.omniglot.com/news/
https://twitter.com/Omniglossia
https://www.facebook.com/groups/omniglot/
https://www.facebook.com/Omniglot-100430558332117
You can also listen to this podcast on: Apple Podcasts, Amazon Music, Stitcher, TuneIn, Podchaser, PlayerFM or podtail.
If you would like to support this podcast, you can make a donation via PayPal or Patreon, or contribute to Omniglot in other ways.