Time expressions
---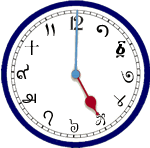 Telling the time
This is a collection of phrases for telling the time in various languages.
Time phrases
Time expressions in many languages (Excel, 205K)
Can you help by sending translations and/or recordings? The recordings don't have to be of every phrase, but of enough parts of phrases so that I'll be able to splice them together. Please contact me if you can help.
Also, if you can help with putting the phrases into a database, and/or making a multilingual clock, please let me know.
Multilingual pages
Phrases | Numbers | Numerals | Colours | Time expressions | Kinship terms | Language names | Country names | Idioms | Proverbs | Tongue twisters | Signs | UDHR | Tower of Babel | Songs | Omniglot | Seven dwarfs | Zodiac signs | Computer parts