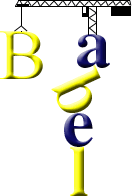 The Tower of Babel (Genesis 11: 1-9)
---
Neddersassisch (Low Saxon)
To de Tied geev' dat in de hele Welt man bloots een Spraak.
As de Minschen na Oosten to trocken, daar fünnen se in Sinear platt Land, un se menen, dat 't daar 'n good Wahnen wäsen kunn. Dat duur ook nich lang, daar wahn daar 'n groten Barg Minschen.
Dunn füngen se an, Tegels to maken
un 'n Stadt to boon mit 'n Toorn, den sien Topp na'n Häven ran raak. Up düsse Wies' wullen se sik 'n groten Naam maken. Se menen, anners wöörn se œver de hele Welt verstreit.
As de Herr de Stadt mit den Toorn sehg', de de Minschenkinner boot harren, daar sä he:
"Kiekt an! Düt is een enkelt Volk mit een enkelte Spraak, un düt is man bloots de Anfang vun jüm ähr Doon. Up düsse Wies' kunnen se allens beschicken, wat se man beschicken wullt.
Darüm laat us jüm ähr Spraak updelen un vertütern, dat de een den annern nich mehr verstahn kann!"
Up düsse Aard un Wies' verstrei de Herr de Minschen œver de hele Welt, un se holden up mit dat Boon vun de Stadt.
So keem dat, dat de Stadt Babel heet, wat so wat as "Biesternis" un "Kuddelmuddel" bedüden deit.
Low Saxon Translation by Reinhard F. Hahn, 2009
---
Ostfälisch Plattduitsch (Low German of Westphalia)
De Toren von Babel
In der Taid sproken de Minschen noch eine Sprake, jeder gebriuke deselben Wure.
As de Minschen weggtogen naa'n Osten, keimen se in ne Ebene in Babylonien, wuu se wuhnen gingen.
Se sieen töoenander: Latet ösch Läihmpaltern nühmen un dei in'n Fuiere bakken. De Läihmpaltern gebriuken se as Bakksteine, un Eerdpekk as Mörtel.
Denne sieen se: Latet ösch niu ne Stadt biuen mit en Toren söo hauch as de Himmel. Dat sall ösch berühmt maken, un wai weret denne nich over de ganze Eern verbreiet.
Da kamm de Heere naa'r Eern, ümme sek de Stadt un en Toren anteseihn, dei di Minschen biuen.
Wat se haier maket, dachte Gott, is man ierst de Anfang. Si sind niu ein Volk un spreket eine Sprake. Niu könnt se allet maken, wat se man willt.
Latet ösch naa ühnen hengahn. Wai möttet ühre Sprake verwirren, söo dat se enander nich mehr verstahn könnt.
Söo verbreie de Heere de Minschen over de ganze Eern. Mit'n Upbiu von'er Stadt mossten se uphören.
De Stadt hett Babel: Verwirrunge, weil de Heere da de Sprake von allen Minschen verwirre, un se von da iut sek over de ganze Eern verbreien.
This variety of Low German is spoken in Westphalia, Saxony-Anhalt, Lower Saxony and Hesse in Germany.
Source: De Plattduitsche Baibel oversettet von Friedrich Wille, 1990.
---
Plattdeutsch (Holsteinisch)
De Bööm waßt nich bit na den Heven rup
Nu harrn all de Minschen up de Eer een Spraak un brukten ok all de sülvigen Wöör.
As se nu na Osten wannern deen, do funnen se in dat Land Sinear en Stück Sietland und setten sik dar fast.
Un se seen to enanner: "Los! Nu laat uns Tegelsteen striken un Muursteen brennen!" Sodennig harrn se Tegelsteen as Muursteen un Teer as Leem.
Un se seen wider: "Los! Wi wüllt en Stadt buun un enen Torm, de mit de Spitz bit na den Heven reckt! Denn hebbt wi uns en Denkmaal sett un blievt tosamen un loopt nicht ut'n een över de ganze Eer."
Aver nu keem Gott hendal un wull sik de Stadt un den Torm mal anseen, den de Minschen sik butt harrn.
Un Gott see: "Nu kiek mal an! Een Volk sünd se, un se hebbt ok all de sülvige Spraak! Aver dat is man de Anfang vun dat, wat se vörhebbt. Dar blivt dat nich bi. Dat duurt nich meer lang, denn sett se allens dörch, wat se sik in den Kopp sett hebbt.
Goot! Laat eer! Aver denn wüllt wi wat anners doon. Denn föört wi nu hendal un bringt eer Spraak so in Tiß, dat een den annern överhaupt nich meer versteit."
Un so dreev Gott eer vun dar würklich över de ganze Eer ut'n een, un se müssen alles liggen laten, un ut de Stadt wörr nix.
Darum nöömt se de Stadt Babel; denn dar hett Gott ja de Spraak vun all de Minschen in Tiß bröcht un vun dar ok eer all ut'n een dreven över de ganze Eer.
Source: Dat Ole und dat Nie Testament in unse Moderspraak, 1962.
Holsteinisch is a variety of Low German spoken in Holstein, the southern part of Schleswig-Holstein in Germany, in Dithmarschen, around Neumünster, Rendsburg, Kiel and Lübeck.
---
Plautdietsch (Mennonite Low German)
To eene Tiet hauden see oppe gaunze Ieed bloos eene Sproak un aula de selwje Wieed.
Un aus de Menschen vom Oosten wieda trocken, kjeemen see no eene groote Stap en de Jäajent von Schinar. Doa siedelden see aun.
Un see säden to eenaunda: Nu emol aun de Oabeit! Well wie ons Tieejlen moaken un dee goot hoat brennen. See hauden dan Tieejlen fa Steena un Pekj fa Zement.
Un see säden: Nu emol aun de Oabeit! Well wie ons eene Staut buen, un eenen Torm dee bat aum Himmel rieekjt. Well wie ons eenen Nomen moaken, daut wie nich oppe gaunze Ieed vestreit woaren.
Un de HAR kjeem rauf un besach sikj de Staut un dän Torm, dän de Menschen sikj jebut hauden.
Un de HAR säd: Nu kjikj. Daut es aules een Volkj un dee räden aula eene Sproak. Dit is noch mau de Aunfank von daut waut see doonen woaren. Boolt woaren see aules doonen kjennen waut en biefelt.
Well wie emol rauf gonen un an de Sproak vestieren, soo daut see nich eena dän aundren vestonen kjennen.
Un so vestreid de HAR an äwa de gaunze Ieed, un see hieeden opp met de Staut buen.
De Staut wort Babel jenant, wiels de HAR an doa äare Sproak vestieed. Un von doa vestreid de HAR an äwa de gaunze Ieed.
This variety of Low German is spoken by Mennoites in Latin American, particularly in Brazil, Mexico, Bolivia, Paraguay, Peru, Uruguay, Honduras, Belize and Argentina, and also in the USA and Canada. The Mennonites are a Protestant group are named after Menno Simons (1496–1561) of Friesland, who articulated and formalized the teachings of earlier Swiss founders.
Source: De Bibel. The Bible in Plautdietsch (Low German). UBS 2003.
Contributed by Wolfgang Kuhl
Information about Low German | Low German phrases | Tower of Babel in Low German
Tower of Babel in Germanic languages
Afrikaans, Alsatian, Anglo-Saxon / Old English, Bavarian, Danish, Dutch, English, Faroese, Frisian, German, Gronings, Icelandic, Low Saxon / Low German, Norwegian, Palatine German, Swabian, Swedish, Swiss German, Yiddish
Other Tower of Babel translations
By language | By language family