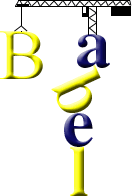 Babeles stypel / The Tower of Babel
(Genesis 11: 1-9)
Englisc (Old English / Anglo-Saxon)
Wæs þa an gereord on eorþan, ond heora ealre an spræc.
Hi ferdon fram eastdele oð þæt hi comon to anum felde on þam lande Sennar, ond þer wunedon.
Ða cwædon hi him betwynan, "Uton wyrcean us tigelan ond ælan hi on fyre." Witodlice hi hæfdon tigelan for stan ond tyrwan for weall-lim.
Ond cwædon, "Cumað ond utan wircan us ane burh ond ænne stypel swa heahne ðæt his rof atille þa heofonan, ond uton mærsian urne namon, ær þan we beon todælede to eallum landum."
God þa nyþer astah, þæt he gesega þa burh ond þone stypel þe Adames sunus getimbroden.
God cwæð þa, "Efne þis his an folc ond gereord him ealum, ond hi ongunnon þis to wircenne; ne hi ne geswicað heora geþohta, ær þan þe hi mid worce hi gefyllan.
Cumað nu eornostlice ond uton niþer astigan ond heora gereord þer towendon, þæt heora nan ne tocnawe his nextan stemne."
Ond God þa hi todælde swa of þære stowe to eallum landum, ond hi geswicon to wyrcenne þa buruh.
Ond for þi wæs seo burh gehaten Babel, for þan þe ðær wæs todæled þæt gereord ealre eorþan. God þa hi sende þanon ofer bradnesse ealra eorðan.
Information about Old English | Old English phrases | Tower of Babel in Old English | Old English-related books and learning materials
Tower of Babel in Germanic languages
Afrikaans, Alsatian, Anglo-Saxon / Old English, Bavarian, Danish, Dutch, English, Faroese, Frisian, German, Gothic, Gronings, Icelandic, Low Saxon / Low German, Norwegian, Palatine German, Swabian, Swedish, Swiss German, Yiddish
Other Tower of Babel translations
By language | By language family