Haitian Creole (Kreyòl ayisyen)
Haitian Creole is a creole language spoken by about 8.5 million people in Haiti. There are a further 3.5 million speakers in a number of countries, including Canada, the USA, France, the Dominican Republic, Cuba, the Bahamas and other Caribbean countries.
Haitian Creole is based largely on French, with influences from various West African languages, such as Wolof, Fon and Ewe.
Haitian Creole has been one of Haiti's official languages, along with French, since 1961. It is used to some extent in literature, newpapers, radio and TV. Many speakers are bilingual in Haitian Creole and French.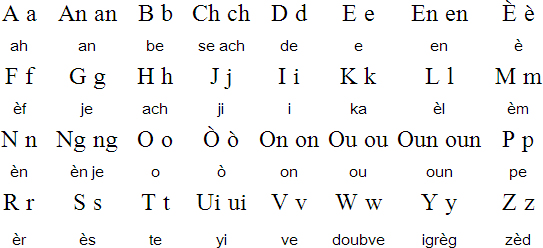 Haitian Creole pronunciation
Download an alphabet chart for Haitian Creole (Excel)
Sample text in Haitian Creole
Tout moun fèt lib, egal ego pou diyite kou wè dwa. Nou gen la rezon ak la konsyans epi nou fèt pou nou aji youn ak lot ak yon lespri fwatènite.
Translation
All human beings are born free and equal in dignity and rights. They are endowed with reason and conscience and should act towards one another in a spirit of brotherhood.
(Article 1 of the Universal Declaration of Human Rights)
Information about Haitian Creole | Phrases | Tower of Babel
Links
Information about Haitian Creole
http://en.wikipedia.org/wiki/Haitian_Creole_language
http://www.clubcreole.org/news/resource
http://www.ahadonline.org/eLibrary/creoleconnection/Number20/haitiancreole.htm
http://www.angelfire.com/ky/LeCorde/krlprn.html
Haitian Creole courses
http://polymath.org/haitian.php
Haitian Creole phrases
http://www.kreyol.com/dictionary/creole-phrases.html
http://www.travelinghaiti.com/haitian_kreyol.asp
http://www.clubcreole.org/news/resource
http://en.wikipedia.org/wiki/Haitian_Creole_language
http://wikitravel.org/en/Haitian_Creole_phrasebook
http://www.iadopt.info/kreyol/KreyolBook.pdf
http://mylanguages.org/haitian_phrases.php
Haitian Creole dictionaries
http://www.kreyol.com/dictionary.html
http://www.freelang.net/online/haitian_creole.php
http://www.haitisurf.com/dictionary.shtml
Tweets in Haitian Creole
http://indigenoustweets.com/ht/
Creole languages
Aukaans/Ndjuká, Bislama, Cape Verdean Creole, Chavacano, Chinook Jargon, Fanagalo, French Guianese Creole, Guadeloupean Creole, Guinea-Bissau Creole, Haitian Creole, Jamaican, Kituba, Manado Malay, Mauritian Creole, Nagamese, Norfuk, Papiamento, Pijin, Réunion Creole, Sango, Saramaccan, Seychelles Creole, Sierra Leonean Creole, Sranan, Tok Pisin, Torres-Strait Creole
Other languages written with the Latin alphabet