Podcast: Play in new window | Download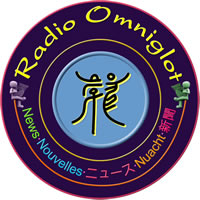 Here's the latest news from the world of Omniglot.
There are new language pages about:
New phrases pages:
I would like … in various languages.
Wymsorys (Wymysiöeryś), a West Germanic language spoken in Wilamowice in southern Poland.
New numbers pages:
Nukumanu, a Polynesian language spoken on Nukumanu Island in Bougainville province in eastern Papua New Guinea.
Luba-Katanga (Kiluba), a Bantu language spoken in the southeast of the Democratic Republic of the Congo (DRC).
Kinaray-a, a Visayan language spoken in the Western Visayas region of the Philippines
New Tower of Babel translation: Gilaki (گیلکی), an Iranian language spoken in northwestern Iran.
There's a new Omniglot blog post about the expression Catty-cornered, which has nothing to do with cats, and there's the usual Language Quiz. See if you can guess what language this is:
Here's a clue: this language is spoken in northwestern Iran.
The mystery language in last week's language quiz was Kurtöp, an East Bodish language spoken in the northeast of Bhutan.
In this week's Adventure in Etymology, we're uncover the origins of the word Bone.
On the Celtiadur blog there's a new post called Deceitful Errors about words for error, deceit and related things, and I made improvements to the posts entitled Expensive Fools and Young.
Improved pages: Dzongkha numbers, Ticuna language and Matoran alphabet
For more Omniglot News see:
https://www.omniglot.com/news/
https://twitter.com/Omniglossia
https://www.facebook.com/groups/omniglot/
https://www.facebook.com/Omniglot-100430558332117
You can also listen to this podcast on: Apple Podcasts, Amazon Music, Stitcher, TuneIn, Podchaser, PlayerFM or podtail.
If you would like to support this podcast, you can make a donation via PayPal or Patreon, or contribute to Omniglot in other ways.
Radio Omniglot podcasts are brought to you in association with Blubrry Podcast Hosting, a great place to host your podcasts. Get your first month free with the promo code omniglot.