Podcast: Play in new window | Download
Here's the latest news from the world of Omniglot.
There are new language pages about:
Thai Song (ꪩꪱꪫꪶꪎ꫁ꪉ / ลาวโซ่ง), a Southwestern Tai language spoken in central Thailand
Oroko, a Bantu language spoken in southern Cameroon.
Ninde, a Southern Oceanic language spoken in central Vanuatu.
New fictional script: Sheikah, which is used to write English and Japanese in the games The Legend of Zelda: Breath of the Wild and Hyrule Warriors: Age of Calamity.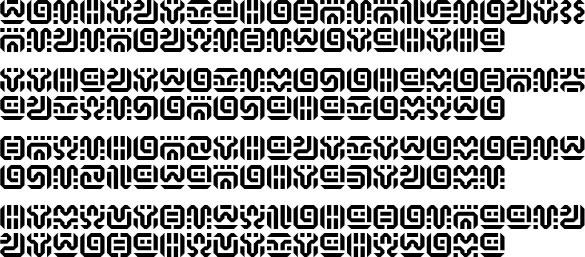 New numbers pages:
On the Omniglot blog there's a post entitled Smiling Hum about the Finnish word hymy (smile), and related words, and there's the usual Language Quiz. See if you can guess what language this is:
Here's a clue: this language is spoken in Colombia
The mystery language in last week's language quiz was Gawwada, a Cushitic language spoken in southern Ethiopia.
There's a new Celtiadur post about words for Blind and related things in Celtic languages, and I made improvements to the post about words for Kings and related things.
In the Celtic Pathways podcast we uncover the Celtic roots of the word Cream.
In other news, I went to two French conversation groups this week – the usual one on Thursday night in Bangor, and another one on Wednesday night in Dinas Dinlle. It was nice to meet some new people and to see a place I hadn't been to before.
For more Omniglot News see:
https://www.omniglot.com/news/
https://twitter.com/Omniglossia
https://www.facebook.com/groups/omniglot/
https://www.facebook.com/Omniglot-100430558332117
You can also listen to this podcast on: Apple Podcasts, Amazon Music, Stitcher, TuneIn, Podchaser, PlayerFM or podtail.
If you would like to support this podcast, you can make a donation via PayPal or Patreon, or contribute to Omniglot in other ways.
Radio Omniglot podcasts are brought to you in association with Blubrry Podcast Hosting, a great place to host your podcasts. Get your first month free with the promo code omniglot.