Podcast: Play in new window | Download
Here's the latest news from the world of Omniglot.
The new language pages this week are:
Tonga (Chitonga / iciTonga), a Bantu language spoken mainly in Zambia, and also in Zimbabwe.
Nande (Kinande), a Bantu language spoken in the Democratic Republic of the Congo.
Mogholi (مُغُلی), a Mongolic language spoken the Herat region of Afghanistan.
There as new constructed script – Evhmelish / Abechedário Ejméliko, which is an alternative way to write Spanish invented Arturo Jiménez Zavala and based on the Mongolian Folded Script (Evhmel Bichig).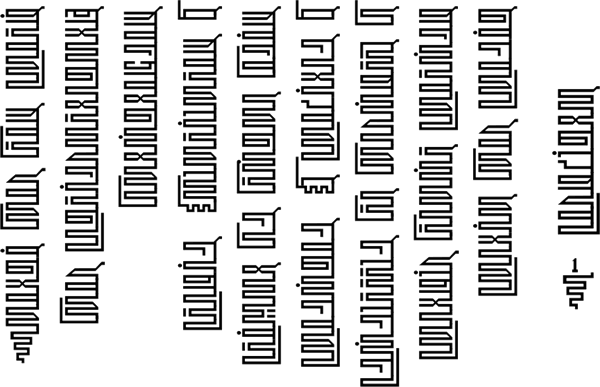 There a new adapated script – Cyrillic for Brazilian Portuguese, which was devised by Guilherme E. S.
There are a new numbers pages in: Northern Sotho (Sesotho sa Leboa), Southern Sotho (seSotho) and Swati (siSwati), which are all Bantu languages.
The new Omniglot blog posts this week are Rush Reeds and Unapologetic Accents, and the usual Language Quiz – see if you can guess what language this is.
The mystery language in last week's language quiz was Turoyo (Sūrayṯ / ܛܘܪܝܐ), a Neo-Aramaic language spoken in southeastern Turkey and northern Syria.
The Celtiadur post this week is about words for knots, bulges and related things in Celtic languages.
In the Adventure in Etymology this week we look into the origins of the word fool,
For more Omniglot News see:
https://www.omniglot.com/news/
https://twitter.com/Omniglossia
https://www.facebook.com/groups/omniglot/
https://www.facebook.com/Omniglot-100430558332117
You can also listen to this podcast on: Apple Podcasts, Amazon Music, Stitcher, TuneIn, Podchaser, PlayerFM or podtail.
If you would like to support this podcast, you can make a donation via PayPal or Patreon, or contribute to Omniglot in other ways.