Arabic language related links
If you find a link that is no longer working or that has moved, or would like to add a new link to this page, please contact me
---
Online Arabic lessons and other resources for learners
Online lessons in Modern Standard Arabic
http://i-cias.com/babel/arabic/
http://mylanguages.org/learn_arabic.php
http://www.madinaharabic.com
http://arabicspeaker.blogspot.com
http://www.arabic-alphabet.org
http://www.naturalarabic.com
http://www.dalilusa.com/arabic_course/intro.asp
http://www.arabicsp.com
http://www.arabicpod.net
http://www.arabic-studio.com
http://www.ArabicOnline.eu
http://www.laflwsp.com
http://www.criticallanguageservice.com/about-us/youtube-videos
http://www.learnarabic.com
http://ilovelanguages.org/arabic.php
http://lingohut.com/en/l69/learn-arabic
Arabic Language - various resources for learning Arabic
http://www.arabic-language.org
Kaleela - an app that teachers you Modern Standard Arabic, Egyptian Arabic, Syrian Dialect, Palestinian-Jordanian Arabic and Iraqi Dialect
https://kaleela.com/
Online lessons in Egyptian Arabic
http://www.egyptianarabic.com http://egyptianarabiccourse.bl
ogspot.com
http://www.rocketlanguages.com/arabic/premium/
http://speak-masry.blogspot.com
http://www.lingovillage.com
http://blogs.alsun-alarab.com/langue-arabe-egypte/
Online lessons in Lebanese Arabic
https://lebanese-arabic.com
http://www.abjadiye.com
http://www.youtube.com/watch?v=7iovf94e4uU
Online lessons in Moroccan Arabic
http://www.speakmoroccan.com
http://www.moroccanlanguage.com
http://www.getislam.net/other/Moroccan-Arabic-Textbook.pdf
http://www.morocco-guide.com/travel-tips/useful-moroccan-phrases
http://www.morocco-guide.com/travel-tips/numbers-in-moroccan-arabic
Essential words and phrases in Iraqi Arabic (with audio)
http://www.transcon.info
Learn the Arabic alphabet
https://youtu.be/53Nf8xVrN24?list=PLfqR7v0tdEjIe-ScJPmw6Z4JR1Lj33hDl
Arabic alphabet song
http://www.youtube.com/watch?v=zRnAYGh1RxM
How to read handwritten Arabic
https://autolingual.com/handwritten-arabic/
Arabic learning resources
http://www.pimsleurapproach.com/resources/arabic/
Online virtual Arabic keyboards
http://www.arabic-keyboard.org
http://www.i2arabic.com
http://www.lexilogos.com/keyboard/arabic.htm
https://www.branah.com/arabic
http://www.clavier-arabe-pro.com/arabic-keyboard.php
http://www.arabickeyboard360.com/
https://arabic-keyboards.net
http://www.clavier-arabe-plus.ma/arabic-keyboard-en.php
Arabic phrases
http://www.arabic2000.com/arabic/public/common.html
http://www.touregypt.net/translat.htm
http://www.learn-arabic-language-software.com/phrases/FSArabic.htm
http://www.linguanaut.com/english_arabic.htm
http://www.kwintessential.co.uk/resources/language/arabic-phrases.html
http://www.arabiccomplete.com/modules_useful_phrases/
Phrases in Egyptian Arabic
http://touregypt.net/translat.htm
http://wikitravel.org/en/Egyptian_Arabic_phrasebook
http://arabic.desert-sky.net/greetings.html
Phrases in Moroccan Arabic
http://www.morocco-guide.com/language/useful-moroccan-phrases/
http://wikitravel.org/en/Moroccan_Arabic_phrasebook
http://www.31best-riad-marrakesh.com/learn-moroccan-arabic/
Send emails in Arabic using without Arabic software
http://www.muftah-alhuruf.com/email.html
---
Arabic dictionaries
https://en.bab.la/dictionary/arabic-english/
https://dictionary.reverso.net/english-arabic/
http://dictionary.babylon.com/arabic/
http://darijadictionary.com
http://www.alqamoos.org/
https://www.arabicterminology.com/
---
Arabic translation
Arabic <> English online translation tools
http://www.lingo24.com/free-language-translation-tools.html
Arabic translation - free translation of names and phrases into Arabic
http://arabic.speak7.com/learn_arabic.htm
Arabic translation
http://www.google.com/translate_t
http://freetranslation.imtranslator.net/
---
Arabic language radio and TV
Online Arabic language radio
http://www.iraqhurr.org
http://arabic.iba.org.il/
http://www.bbc.co.uk/arabic/
http://www.integratedlanguages.com/
InternetRadio_Arabic.htm
http://www.maghrebspace.net/Radios
Links to Arabic TV stations
http://www.arab.de/arab/News_Media/Television/
http://www.asfory.com/radio_tv_news_live.html
http://www.arabic2000.com/index/media.html
---
Online Arabic language news
http://news.bbc.co.uk/hi/arabic/news/
http://www.ahram.org.eg
http://www.alarabiya.net
http://www.akhbarelyom.org
http://www.arabic2000.com/index/news.html
http://arabic-media.com/arabicnews.htm
Links to online Arabic language newspapers
http://www.arabic2000.com/index/news.html
http://arabic-media.com/arabicnews.htm
---
Arabic fonts
Free Arabic fonts
http://www.wazu.jp/gallery/Fonts_Arabic.html
http://freearabicfonts.com/
https://cooltext.com/Fonts-Unicode-Arabic
https://www.designyourway.net/drb/34-free-arabic-fonts-available-for-download/
---
Arabic Translation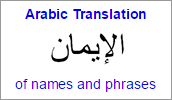 Our Price:$10.00
Arabic calligraphy (
الخط العربي

)

http://www.islamicart.com/main/calligraphy
http://www.arabicfonts.com/cgallery.asp
http://www.zakariya.net

Your name in Arabic calligraphy
http://www.firdaous.com/en/?13-a
http://www.abjad.co.uk
http://www.tattoos-by-design.co.uk
---
Qur'an/Koran
Al-Mu'allim Digital Qur'an
http://www.tcc-qatar.com/ALMUALIM.htm
---
Courses in Arabic for other languages
Amazighia courses / تعلم الامازيغية
http://duroos.org/amazighia.php
Chinese courses / تعلم الصينية
http://duroos.org/chinese.php
Danish courses / دروس الدانمركية
http://duroos.org/danish.php">http://duroos.org/danish.php
Dutch courses / دروس الهولندية
http://duroos.org/dutch.php
English courses / دورات اللغة الإنجليزية
http://duroos.org/english.php
http://st-takla.org/Learn_Languages/03_Learn-English-Lessons-Taaleim-engelizy-Free/Learn-English_00-Index-El-Fehres.html
http://english4arab.net/vb/f45.html
http://duroos.org/english.php
Finnish courses / دروس الفنلدية
http://duroos.org/finnish.php
French courses / دورات الفرنسية
http://st-takla.org/Learn_Languages/04_Learn_French-Fransawy-Online-Free-Tutorial/Learn-French_00-index_El-Fehres.html
http://duroos.org/french.php
German courses / دروس الالمانية
http://duroos.org/german.php
Greek courses / دروس اليونانية
http://duroos.org/greek.php
Hindi courses / تعلم الهندية
http://duroos.org/hindi.php
Italian courses / دروس الايطالية
http://duroos.org/italian.php
Japanese courses / تعلم اليابانية
http://duroos.org/japanese.php
Korean courses / تعلم الكورية
http://duroos.org/korean.php
Norwegian courses / دروس النرويجية
http://duroos.org/norwegian.php
Russian courses / دروس الروسية
http://duroos.org/russian.php
Spanish courses / دروس الإسبانية
http://duroos.org/spanish.php
Swedish courses / تعلم السويدية
http://duroos.org/swedish.php
Thai courses / دروس التايلندية
http://duroos.org/thai.php
Turkish courses / دروس التركية
http://duroos.org/turkish.php
Vietnamese courses / دروس الفيتنامية
http://duroos.org/vietnamese.php
Other languages
https://www.busuu.com/ar/
- Learn Arabic online with ArabicPod101
- TalkInArabic.com - learn colloquial Arabic of Algeria, Egypt, Iraq, the Levant, Morocco, Saudi Arabia, Sudan or Tunisia

- eArabic Learning - Learn Arabic Online with Live Teachers
- Learn Arabic with Glossika
- Learn Arabic now at Rocket Languages!

- Arabic Genie - a quick and easy way to learn the Arabic alphabet
Arabic courses and other resources available on Amazon
Information about Arabic | Phrases | Numbers | Video lessons | Tower of Babel | Articles | Links | Learning materials | Books about the Arabic script | Arabic electronic dictionaries and translators
[top]
---
Links pages
Names | Translation | Dictionaries | Language courses | Phrases | Language and linguistics | Language learning advice | Language learning resources | Language exchange | Endangered and minority languages | Writing systems | Sign languages | Fonts | News | Radio | Podcasts | Language jobs | Calligraphy | Bilingual and multilingual resources | Constructed languages | Suggest a link
Links for individual languages
Ancient Egyptian | Arabic | Breton | Celtic languages | Chinese | Cornish | Dutch | English | French | German | Greek | Hebrew | Hindi | Irish | Italian | Japanese | Korean | Manx | Portuguese | Russian | Scottish Gaelic | Spanish | Welsh | Tolkien's languages
[top]
---

Why not share this page:
If you need to type in many different languages, the Q International Keyboard can help. It enables you to type almost any language that uses the Latin, Cyrillic or Greek alphabets, and is free.
If you like this site and find it useful, you can support it by making a donation via PayPal or Patreon, or by contributing in other ways. Omniglot is how I make my living.

Note: all links on this site to Amazon.com
, Amazon.co.uk
and Amazon.fr
are affiliate links. This means I earn a commission if you click on any of them and buy something. So by clicking on these links you can help to support this site.