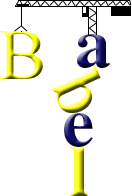 The Tower of Babel (Genesis 11: 1-9)
اردو
(Urdu)
پا نی کے طو فان کے بعد تمام دُنیا کے لوگ ایک ہی زبان بولتے تھے ۔اور تمام لوگ ایک ہی زبان کے الفاظ کو استعمال کر تے تھے ۔
لوگ مشرقی سمت سے سفر کر تے ہو ئے ملک سنعار کی ایک کھلی جگہ میں آئے ۔ وہ وہیں آباد ہو ئے ۔
انہوں نے آپس میں ایک دوسرے سے باتیں کر تے ہو ئے اِس بات کا فیصلہ کیا کہ اچھی جلی ہو ئی اینٹ بنائیں گے ۔ وہ اپنے گھروں کی تعمیر کے لئے پتھروں کے بجائے اِینٹ اور گارے کے بجائے کو لتار کا استعمال کئے ۔
تب اُنہوں نے کہا ، "ہم لوگ اپنے لئے ایک شہر تعمیر کریں ، اور آسمان کو چھو تی ہو ئی ایک لمبی میناربنائیں ۔جس کی وجہ سے ہم شہرت پا جائیں گے ۔اور تب ہمارے لئے زمین میں پھیل جانے کے بجائے ایک ہی جگہ قیام پذیر ہو نا ممکن ہو سکے گا ۔ "
خدا وند شہر کو اور مینار کو جسے کہ یہ لوگ بنا رہے تھے دیکھنے کے لئے نیچے اتر آئے ۔
خدا وند نے کہا ، "یہ سب لوگ ایک ہی زبان بولتے ہیں ۔"اور کہا ، "اگر یہ لوگ ابتداء ہی میں ایسے کار نامے کر سکتے ہیں تو مستقبل میں جسے وہ کر نا چاہتے ہیں انکے لئے کچھ بھی نا ممکن نہ ہو گا ۔
اِس وجہ سے ہم نیچے جاکر اُن کی زبان میں ہیر پھیر اور اختلاف پیدا کریں اور کہا کہ اگر ہم ایسا کریں تو وہ ایک دوسرے کی بات کو سمجھ نہ سکیں گے ۔ "
اسی طرح خدا وند نے زمین پر رہنے والے لوگوں کو مُنتشر کر دیا ۔ اِس لئے شہر کی مکمل تعمیر کرنا اُن سے ممکن نہ ہو سکا۔
خدا وند نے دُنیا کی تمام زبانوں کو جس جگہ ہیر پھیر کیا یہ وہی جگہ ہے ۔ اِس وجہ سے اُس جگہ کا نام بابل ہوا اس طرح خدا وند نے اُس جگہ سے لو گوں کو ساری زمین پر منتشر کر دیا ۔
Transliteration
Pa nī ke tau fān ke baʔad tamām duniya ke log ek hī zabān bolate the. Aur tamām log ek hī zabān ke alfāz ko istamāl kar te the.
Log mašraqī simt simt se safat kar te ho ye malak sin'ār ke aik khulī jagah mãi āe. We wahī̃ ābād ho ye.
Unhõ be āpas mãi ek dosare se bātẽ kar te ho ye is bāt ka faisala kiyā ki acchī jalī ho ye enṭ banāẽn ge. We apane gharõ ke taʔamīr ke lye patharõ ke bajay īnt aur gāre ke bajay ko latār ka istamāl kiya.
Tab unhõ be kahā: "Ham log apane lie ek šahar taʔamīr karãi, aur āsamān ko cho tī ho ye ek lambī menārbanāẽ. Jis kī wajah se ham šuhrat pa jāẽ ge. Aur tab hamāre lie zamīn mãi phail jāne ke bajāy ek hī jagah qayyām sadīr ho nā mumkin ho sake ga".
Xudā wand šihr ko aur mīnār ko jise ke ye log banā rahe the dekhane ke lie nīce utar āe.
Xudā wand ne kahā: "Yah sab log ek hī zimān bolāte hãi". Aur kahā: "Agar ye log ibtaydaʔ he mãi aise kār bāme kar sakate hãi to mustaqbīl mãi jise wah kar nā chāhate hãi unake lie kuch bhī nā mumkin nah ho ga.
Is wajah se ham nīce jākar una ke zimān mãi hīr pher aur ixtelāf paidā karẽ aur kahā ki agar ham aisā karẽ to wah ek dūsare kī bāt ko samajh nah sakẽ ge".
Isī tarah Xudā wand ne zamīn par rahane wāle logõ ko munīšar kar diyā. Isa lie šahar kī mukammal taʔamīr karnā una se mumkin ne ho sakā.
Xudā wand ne duniya ke tamām zabānõ ko jis jagah hīr pher kyah yah wahī jagah hai. Isa wajah se us jagah kā nām Bābul hūā is tarah Xudā wand ne us jagah se lo gõ ko sārī zimān par manišar kar diyah.
Transliteration by Michael Peter Füstumum
Information about Urdu | Phrases | Numbers | Time | Family words | Tower of Babel | Learning materials
Learn Urdu online with UrduPod101
Tower of Babel in Indo-Aryan languages
Assamese, Awadhi, Bengali, Fijian Hindi, Gujarati, Hindi, Konkani, Maldivian, Marathi, Nepali, Odia, Punjabi, Romani, Sanskrit, Sarnámi Hindustani, Sinhala, Sylheti, Urdu
Other Tower of Babel translations
By language | By language family
[top]
---

Why not share this page:

If you like this site and find it useful, you can support it by making a donation via PayPal or Patreon, or by contributing in other ways. Omniglot is how I make my living.
Note: all links on this site to Amazon.com
, Amazon.co.uk
and Amazon.fr
are affiliate links. This means I earn a commission if you click on any of them and buy something. So by clicking on these links you can help to support this site.
Get a 30-day Free Trial of Amazon Prime (UK)
If you're looking for home or car insurance in the UK, why not try Policy Expert?
[top]