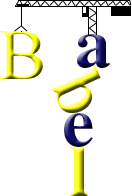 The Tower of Babel (Genesis 11: 1-9)
नेपाली (Nepali)
जगचे विभाजन
यतिबेला समस्त पृथ्वीमा एउटै भाषा थियो अनि थोरै शब्दहरु थिए।
जब मानिसहरू पूर्वबाट बसाइँ सर्न थाले शिनार देशमा तिनीहरूले समतल भूमि भेटे अनि तिनीहरूले त्यहाँ बसोबास शुरू गरे।
तिनीहरू आपसमा कुरा गरे, "हामीले ईंटा बनाउनु पर्छ अनि त्यसलाई कडा बनाउनको लागि आगोमा पोल्नु पर्छ।" यसर्थ तिनीहरुको घर बनाउदा ढुङ्गाको सट्चामा ईंटालाई प्रयोग गरे अनि ईंटा जोड्न माटोको सट्टामा मसला प्रयोग गरे।
तिनीहरूले भने, "आऊ, हामी आफ्नो निम्ति एउटा शहर बनाऔं अनि एउटा धरहरा बनाऔं जसको शिखर स्वर्ग पुग्छ। हामी प्रख्यात हुनु पर्छ र यसले हामीलाई संगठित राख्नेछ। नत्र हामी संसारभरि छरपष्ट हुनेछौं।"
परमप्रभु मानिसहरूले बनाउदै गरेको किल्ला र शहर हेर्न तल आउनु भयो।
तब परमप्रभुले भन्नुभयो, "हेर, तिनीहरू मिलेर एक भएका छन्, तिनीहरूले एउटै भाषा बोल्दैछन्। तिनीहरूले के गर्ने छन् यो एउटा शुरू मात्र हो, अब चाँडै तिनीहरूले के गर्न खोज्छन् त्यही गर्न सक्ने हुन्छन्।
यसर्थ हामी तिनीहरूको माझमा जाऔं र तिनीहरूको भाषामा खलबल पारिदिऔं जसले गर्दा तिनीहरू एक-अर्काले बोलेको भाषा बुझ्‌न नसकून्।"
यसरी परमप्रभुले तिनीहरूलाई पृथ्वीको सम्पूर्ण सतहभरि छरपष्ट पारिदिनु भयो। यसर्थ उहाँले भवन निर्माणको काम रोकिदिनु भयो।
त्यसकारण यो शहरको नाउँ बाबेल राखियो। यसप्रकार त्यस ठाउँबाट परमप्रभुले मानिसहरूलाई पृथ्वीको सतहभरि छरपष्ट पार्नु भएको थियो।
Jagacē Vibhājana
Yatibēlā samasta pr̥thvīmā ē'uṭai bhāṣā thiyō ani thōrai śabdaharu thi'ē.
Jaba mānisaharū pūrvabāṭa basā'im̐ sarna thālē śināra dēśamā tinīharūlē samatala bhūmi bhēṭē ani tinīharūlē tyahām̐ basōbāsa śurū garē.
Tinīharū āpasamā kurā garē, "hāmīlē īṇṭā banā'unu parcha ani tyasalā'ī kaḍā banā'unakō lāgi āgōmā pōlnu parcha." Yasartha tinīharukō ghara banā'udā ḍhuṅgākō saṭcāmā īṇṭālā'ī prayōga garē ani īṇṭā jōḍna māṭōkō saṭṭāmā masalā prayōga garē.
Tinīharūlē bhanē, "ā'ū, hāmī āphnō nimti ē'uṭā śahara banā'auṁ ani ē'uṭā dharaharā banā'auṁ jasakō śikhara svarga pugcha. Hāmī prakhyāta hunu parcha ra yasalē hāmīlā'ī saṅgaṭhita rākhnēcha. natra hāmī sansārabhari charapaṣṭa hunēchauṁ."
Paramaprabhu mānisaharūlē banā'udai garēkō killā ra śahara hērna tala ā'unu bhayō.
Taba paramaprabhulē bhannubhayō, "hēra, tinīharū milēra ēka bha'ēkā chan, tinīharūlē ē'uṭai bhāṣā bōldaichan. Tinīharūlē kē garnē chan yō ē'uṭā śurū mātra hō, aba cām̐ḍai tinīharūlē kē garna khōjchan tyahī garna saknē hunchan.
Yasartha hāmī tinīharūkō mājhamā jā'auṁ ra tinīharūkō bhāṣāmā khalabala pāridi'auṁ jasalē gardā tinīharū ēka-arkālē bōlēkō bhāṣā bujh‌na nasakūn."
Yasarī paramaprabhulē tinīharūlā'ī pr̥thvīkō sampūrṇa satahabhari charapaṣṭa pāridinu bhayō. Yasartha uhām̐lē bhavana nirmāṇakō kāma rōkidinu bhayō.
Tyasakāraṇa yō śaharakō nā'um̐ bābēla rākhiyō. yasaprakāra tyasa ṭhā'um̐bāṭa paramaprabhulē mānisaharūlā'ī pr̥thvīkō satahabhari charapaṣṭa pārnu bha'ēkō thiyō.
Source: http://etabetapi.com/cmp/ne-web/Gen/11
Information about Nepali | Phrases | Numbers | Tower of Babel
Tower of Babel in Indo-Aryan languages
Assamese, Awadhi, Bengali, Fijian Hindi, Gujarati, Hindi, Konkani, Maldivian, Marathi, Nepali, Odia, Punjabi, Sanskrit, Sarnámi Hindustani, Sinhala, Sylheti, Urdu
Other Tower of Babel translations
---
If you need to type in many different languages, the Q International Keyboard can help. It enables you to type almost any language that uses the Latin, Cyrillic or Greek alphabets, and is free.
If you like this site and find it useful, you can support it by making a donation via PayPal or Patreon, or by contributing in other ways. Omniglot is how I make my living.
Note: all links on this site to Amazon.com
, Amazon.co.uk
and Amazon.fr
are affiliate links. This means I earn a commission if you click on any of them and buy something. So by clicking on these links you can help to support this site.