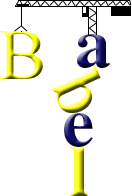 The Tower of Babel (Genesis 11: 1-9)
---
Saveeng Tuam / Tuam-Mutu
Rumei to Babel tau daaba malaua
Muuŋ, tamtamon tau tileep izi taan na, tisov tisavia aliŋazi eemon, ve saveeŋ toozi raraate.
Yes tileep izi nugh eemon mako. Tizurzuur tiŋarui aaz puughu tila, le tivot taan duduuŋa ee tau igheen ila taan sirivu to Sinar, ve tighur niazi to lepoogh ta sewe.
Ra tivasavo zi tighe: "Laak! Iit aat tabuud taan ve tamozi ila yav. Leso iyaryaaŋ kat imin maet ve tagharaat ruum pani." Tigham tauvene, ve lezi gabua ivot pa raoŋ ruum. Ve tigham gabua ite imin zimir to ikis maet tawe le tuŋia.
Ra tisaav tighe: "Laak! Iit aat tagharaat leen nugh tiina eta, ve tagharaat rumei tiina eta tau daaba izala lee ikis taitai. Leso ezaan imin tiina. Ve gabua ite. Uraat tiina tane pale ilup ghiit tamin eemon. Mako pale tambiriis ve taleep leen leen irau taan ta naol ne."
Yes tigham gabua tane le isov, ra Yoova izilam ighe ighita nugh toozi tiina tawe ve rumei tau tirao izala le izala kat na.
I ighit zi ve isaav ighe: "Wai, tamtamon tilup zi timin eemon wa! Ve tisavia aliŋazi eemon, ve aazne tipaburigin uraat tiina tane paam. Murei, isaav ighe lolozi ighur pa uraat tintiina siriv, pale matazi sorok ve tighamu mon. Pasaa, gabua eta irau ipoon zi muul mako.
Tauvene iit aat tazila ve tatoor aliŋazi ila ite ite. Leso tivaloŋai aliŋazi muul sov."
Eez tane ta Yoova igham zi tipul uraat igheen, ve ivarewai zi tila tileep irau taan isov. 9. Nugh tiina tawe, tiwaat eeza tighe 'Babel.'* Pasaa, indeeŋ saawe tau tamtamon tisov to taan tilup zi izi nugh tana, Yoova itoor aliŋazi, ve ivarewai zi gha tighau tila tileep lez lez irau taan isov.
*) Saveeŋ 'Babel' igharau Hibru aliŋazi ziiri ee tau puughu 'irewai'.
Source: Papua New Guinea Scriptures: http://pngscriptures.org/tuc-t/GEN11.htm#V0
---
Saveeng Oov (Mutu)
Rumai to Babel to daba mala
Muuŋ, tamtoghon to tineep izi taan, tisob tisavia aliŋadi ee moghon, ve saveeŋ todi raraate.
Yes tineep izi ndug ee moghon maau. Tindurnduur tilala pa ndag iza, le tivot izi taan raapa eez to ineep ila taan suruvu to Sinar, ve tighur inadi to nepooŋ tonowe.
Ghoro tiwasavon di tighaze: "Laak! Iit irau tapol taan ve tamozi ila yab. Leso iyaryaaŋ kat inimale yaam ve tagharaat ruum pani." Tigham tovene, ve ledi mbeb ivot pa reiŋ ruum. Ve tigham mbeb ite inimale ndimir pa ikor yaam tonowen le tuŋia.
Ghoro tisaav tighaze: "Laak! Iit irau tagharaat leed ndug tiina eta, ve tarei rumai tiina eta to daba izala le ikis tata. Leso izaad ivot inim tiina. Ve mbeb ite. Uraat tiina tonene pale ilup ghiit tanim ee moghon. Pa vene, tambiriis ve taneep leed leed irau taan to naol ne."
Yes tigham mbeb tonene le isob, ghoro Yoova izi inim ighaze ighita ndug todi tiina tonowen ve rumai to tireii izala le izala kat.
Ye ighita di, ve isaav ighaze: "Wai, tamtoghon tilup di tinim ee moghon wa! Ve tisavia aliŋadi ee moghon, ve aazne tipamundigin uraat tiina tonene paam. Muri, ighaze tigham ŋgar pa uraat tintina pida, pale matadi sorok ve tighami moghon. Pasa, mbeb eta irau ila muridi maau.
Tovenen iit tazila ve tatoor aliŋadi inim naol. Leso tiwaloŋan aliŋadi muul sob."
Ataam tonene to Yoova igham di tipul uraat ineep, ve ireu di tila tineep irau taan isob.
Ndug tiina tonowen, tiwaat iza tighaze 'Babel.'*Pasa, indeeŋ sawa to tamtoghon tisob to taan tilup di izi ndug tonowen, Yoova itoor aliŋadi, ve ireu di tighau tila tineep ledi ledi irau taan isob.
*) Saveeŋ 'Babel' igharau Hibru aliŋadi saveeŋ waaro eez to pughu 'ireu.'
Source: Papua New Guinea Scriptures: http://pngscriptures.org/tuc-o/GEN11.htm#V0
Contributed by Wolfgang Kuhl
Mutu-Tuam is also known Saveeng, Saveeng Tuam, Sisi, Tuam-Mutu, Tuam or Tuom.
Information about Mutu-Tuam
http://en.wikipedia.org/wiki/Mutu_language
http://www.ethnologue.org/language/tuc
Tower of Babel in Malayo-Polynesian languages
Acehnese, Adzera, Ambrym, Anuki, Are, Balinese, Bambam, Bariai, Biatah Bidayuh, Bola, Bugis, Bwaidoka, Caribbean Javanese, Central Sinama, Fijian, Hiri Motu, Iban, Indonesian, Jarai, Kadazandusun, Kahua, Kakabai, Kambera, Kaninuwa, Kenyah, Kurti, Javanese, Luang, Lun Bawang, Madurese, Makassar, Malagasy, Malay, Mbula, Mentawai, Misima-Paneati, Motu, Nali, Ngaju, Nias, North Efate, Nyindrou, Paama, Palawano, Rade, Rotuman, Saveeng Tuam, Selaru, Suau, Sundanese, Timugon Murut, Tolai, Tontemboan, Toraja-Sa'dan, Tungag, Ubir, Wamesa, Yabem
Other Tower of Babel translations
By language | By language family
[top]
---

Why not share this page:

If you like this site and find it useful, you can support it by making a donation via PayPal or Patreon, or by contributing in other ways. Omniglot is how I make my living.
Note: all links on this site to Amazon.com
, Amazon.co.uk
and Amazon.fr
are affiliate links. This means I earn a commission if you click on any of them and buy something. So by clicking on these links you can help to support this site.
Get a 30-day Free Trial of Amazon Prime (UK)
If you're looking for home or car insurance in the UK, why not try Policy Expert?
[top]