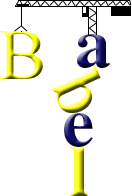 The Tower of Babel (Genesis 11: 1-9)
Vakaviti (Fijian)
Na Vale Vakaitaba Mai Pepeli
Na vuravura taucoko sa dua ga na kenavosa ka sa dua talega na kena i vosavosa.
Sa qai yaco, ni ra sa lako tiko mai na tokalau,era sa kunea sara e dua na buca ena vanua o Sina,ka era sa tiko sara kina.
Era sa veivosaki vakai ira ka vaka, "Me da sabuli vatutuva mada ka kuvuya vakavinaka." Sa tuvei ira na veika me buli kina na vatutuva oqo.
Era sa tukuna sara, "Ni lako mai, meda taramada e dua na noda koro kei na dua na valevakaitaba, na delana me tiko mai lomalagi; mekilai kina na yacada, de, eda na qai vakasesei yaniena matai vuravura taucoko."
Sa lako sobu mai o Jiova me raica na koro keina vale vakaitaba, o koya era sa tara tiko natamata.
Sa tukuna o Jiova, "Era sa dua ga na tamata,ka sa dua ga na nodra vosa. Raica oqo na veikaera sa tekivu mera cakava, sa sega na veika e tikotale, me na tarova na veika era sa nakita.
"Mai, Medatou lako sobu ka vakasesea nanodra vosa, me ra kakua ni veikilai vosavosakina."
O Jiova sa vakacemuri ira tani mai kea ki naveiyasai vuravura kece, sa mai tu vakadua na taraicake ni koro.
Sa vakayacani na koro o ya me Pepeli, baleta,ni o Jiova sa vakasesea na nodra vosa kecega evuravura. Mai kea talega sa wasewasei ira yanikina ki vuravura taucoko.
Source: http://www.scribd.com/doc/38648459/Fijian-Bible
New Fijian Translation Bible (2008)
Ko Pepeli na Vale Cecere
A sa duavata ga na vosa e vuravura taucoko ka sa kilai vei ira taucoko.
A sa yaco ni ra sa lako tani mai na tu-i-cake, era mani kunea e dua na buca mai na vanua ko Saina; ka ra sa tiko kina.
A ra sa veivosaki vakataki ira, Tou ia mada, tou cakava na vatu-buli, ka tavuna vakavinaka. A ra sa taura na vatu-buli me kena vatu, ka taura na kuluta me kena drega.
A ra sa tukuna, Tou ia mada, tou tara e dua na noda koro, kei na dua na vale cecere me yacovi lomalagi na delana; tou cakava me rogo kina na yacada, de mani yaco me da na dui veiseyaki yani e dela i vuravura taucoko.
Ia sa lako sobu ko Jiova me raica na koro kei na vale cecere, era tara na tamata.
A sa tukuna ko Jiova, E dina, era sa dua vata ga na tamata, ka sa dua ga na vosa era vosataka kecega; ia sai koya ko ya na ka era sa vakatekivu ni kitaka; ia oqo, na ka kecega era nakita me ra cakava ena sega ni rawa ni tarovi.
Tou ia mada, tou lako sobu, ka vakasesea na nodra vosa, me ra kakua kina ni veikilai vosa.
Sa mani vakasavi ira maikea ko Jiova, ki dela i vuravura taucoko: sa cegu na nodra tara na koro.
O koya sa vakatokai kina na yacana ko Pepeli; ni sa vakasesea maikea na vosa ni vuravura taucoko ko Jiova: a sa dui vakasavi ira maikea ko Jiova, ki dela i vuravura taucoko.
Source: http://www.nftbible.com/NFTB1/NFTB1.htm
Information about Fijian | Phrases | Tower of Babel
Tower of Babel in Malayo-Polynesian languages
Acehnese, Adzera, Amarasi, Ambrym, Anuki, Are, Balinese, Bambam, Bariai, Batak Angkola, Batak Simalungun, Batak Toba, Biatah Bidayuh, Bola, Bugis, Bwaidoka, Caribbean Javanese, Dawan, Fijian, Helong, Hiri Motu, Iban, Indonesian, Jarai, Kadazandusun, Kahua, Kakabai, Kambera, Kaninuwa, Kenyah, Kurti, Javanese, Luang, Madurese, Makassar, Malagasy, Malay, Mbula, Misima-Paneati, Motu, Nali, Ngaju, Nias, North Efate, Nyindrou, Paama, Palawano, Rade, Rotuman, Saveeng Tuam, Suau, Sundanese, Timugon Murut, Tolai, Tontemboan, Toraja-Sa'dan, Tungag, Ubir, Wandamen, Yabem
Other Tower of Babel translations
By language | By language family
---
If you need to type in many different languages, the Q International Keyboard can help. It enables you to type almost any language that uses the Latin, Cyrillic or Greek alphabets, and is free.
If you like this site and find it useful, you can support it by making a donation via PayPal or Patreon, or by contributing in other ways. Omniglot is how I make my living.
Note: all links on this site to Amazon.com
, Amazon.co.uk
and Amazon.fr
are affiliate links. This means I earn a commission if you click on any of them and buy something. So by clicking on these links you can help to support this site.