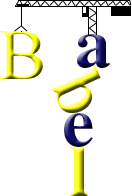 The Tower of Babel (Genesis 11: 1-9)
Ngaju
Tjandi hong Babel; basan olo impakahut Hatalla
Maka olo handiai hapus kalunen hapan augh idjä, tantang hindjä basae.
Djadi, amon olo tandatandar akan hila timor, tä olo sondau äka rampar hong tanah Sinear, palus iä melai hetä.
Maka olo tä hakarangka sama arepe, koae: Has, ita manampa batu bata, manapui tä buabuah. Petak bata tä indu hapae takirin batu, tinai katipäi hapae mampaleket tä, takirin ketok.
Maka koan olo tä: Has, ita nanampa lewu akan ita, tuntang tjandi, hunjoke tempä langit, mangat ita basewut, ajaajau äla ita kasaburan akan salepah petak.-
Tä Jehowa mohon, handak mitä lewu tuntang tjandi, idjä inampa olo kalunen.
Maka koan Jehowa: Itä, olo tä uras idjä kautus, iä handiai hapan basa idjä, tuntang djetoh tamparan karä gawie; toh olo tä djaton tarakahana malalus karä tirok atäie.
Has, ita mohon, ita mampakahut augh olo hetä, sampai genep biti djaton harati augh kolae.
Awi tä Jehowa manaburan olon bara hetä akan salepah petak. Tä olo tä terai manampa lewu tä.
Tagal tä lewu tä inggarä Babel, (kakahut,) krana hetä Jehowa mampakahut augh karä olo kalunen, tinai bara hetä Jehowa manaburan olon akan salepah petak.
Source: Surat brasi Djandji idjä solake. Bagi idjä solake: karä surat sarita. Injalinan bara puna bassae akan basan olo ngadju hong pulau Borneo. Ilambagan hapan balandjan olo Kristen hong tanah Balanda (Nederlandsche Bijbelgenootschap) hong lewu Amsterdam, 1858.
Candi Babel
Solake, kare bangsa hong hapus kalunen mahapan basa ije bewei. Ewen mahapan bawak kotak je sama.
Metoh ewen manamuei akan hila timor, ewen sampai hong ije janah intu Babilonia. Ewen palus melai hete.
Ewen hamauh sama arepe, "Keleh itah manampa batu bata tuntang mamapuie sampai batekang." Kalote ewen mawi batu bata akan batun huma tuntang tér akan dampul hapa mampalekete.
Koan ewen, "Keleh itah mampendeng lewu dengan ije candi je tahunyoke sampai langit, te itah kareh basewut tuntang dia kasaburan akan hapus kalunen."
Maka

TUHAN

mohon handak manampayah lewu tuntang candi je impendeng olon.
Balalu ie hamauh, "Ewen toh ije bangsa tuntang mahapan ije basa. Jetoh harue tamparan kare gawin ewen. Dia tahi tinai ewen olih malalus en bewei je ingahandak ewen.
Keleh itah mohon tuntang mampakahut basan ewen mangat ewen dia tau sama sinde harati auh kolae."
Kalote

TUHAN

manaburan ewen akan hapus kalunen. Palus ewen terai mampendeng lewu te.
Awi te lewu te inggare Babel* (kakahut), awi intu hete

TUHAN

mampakahut basan kare bangsa. Bara hete ewen inaburan awi

TUHAN

akan hapus kalunen.
*Babel: huang basa Ibrani kotak toh samah auhe kilau kotak je rimae "hewoi-habureh".
Source: SURAT BARASIH BARITA BAHALAP. The Bible in Ngaju. Lembaga Alkitab Indonesia. Indonesian Bible Society.
Contributed by Wolfgang Kuhl
Information about Ngaju
http://en.wikipedia.org/wiki/Ngaju_language
http://www.ethnologue.com/language/nij
Tower of Babel in Malayo-Polynesian languages
Acehnese, Adzera, Ambrym, Anuki, Are, Balinese, Bambam, Bariai, Biatah Bidayuh, Bola, Bugis, Bwaidoka, Caribbean Javanese, Central Sinama, Fijian, Hiri Motu, Iban, Indonesian, Jarai, Kadazandusun, Kahua, Kakabai, Kambera, Kaninuwa, Kenyah, Kurti, Javanese, Luang, Lun Bawang, Madurese, Makassar, Malagasy, Malay, Mbula, Mentawai, Misima-Paneati, Motu, Nali, Ngaju, Nias, North Efate, Nyindrou, Paama, Palawano, Rade, Rotuman, Saveeng Tuam, Selaru, Suau, Sundanese, Timugon Murut, Tolai, Tontemboan, Toraja-Sa'dan, Tungag, Ubir, Wamesa, Yabem
Other Tower of Babel translations
By language | By language family
[top]
---

Why not share this page:
If you like this site and find it useful, you can support it by making a donation via PayPal or Patreon, or by contributing in other ways. Omniglot is how I make my living.
Note: all links on this site to Amazon.com
, Amazon.co.uk
and Amazon.fr
are affiliate links. This means I earn a commission if you click on any of them and buy something. So by clicking on these links you can help to support this site.
Get a 30-day Free Trial of Amazon Prime (UK)
If you're looking for home or car insurance in the UK, why not try Policy Expert?
[top]