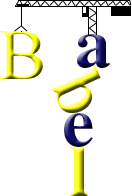 The Tower of Babel (Genesis 11: 1-9)
Bahasa Sangihẹ̆ (Sangirese)
---
BINOHẸ SUSI BAL᷊O MAPIA
Měnara su Babel
Nạung su tětạ e, dal᷊ohong kạguwạu dunia e mang sěmbaụ beran sire, kụ baweran sire mang mẹ̌sul᷊ung.
Tangu piạ i sire němpangal᷊ing sol᷊ong sěmbekan daki e, ene i sire nahumpạ e su wimbaenge sěmbaụ su Babilonia, kụ bọu ene něngkatanạ sene.
Ene i sire nahumbisarạ e sěmbaụ su wal᷊ine, "Ěndaịko i kitẹ mẹ̌koạ batu tela kụ tongkateng pakakětị." Telan sire e nikoạ baugu kakoạ bal᷊e ringangu terẹ̌ e waugu ral᷊abure.
Angkuěng i sire, "Ěndaịko i kitẹ měndarisị soang kitẹ dingangu měnara sěmbaụ kụ pusige manumbụ l᷊angị, tadeạu i kitẹ e tumeleng dingangu tawe mẹ̌sal᷊iawuhẹ̌ su kasěllahu dunia e."
Tangu MAWU e nẹ̌těngkatěntung ěnnaẹ mẹ̌kakělla soa ringangu měnara nạung nilanging u taumata.
Bọu e i Sie něhengetang, "I sire ini e mambeng kawanua sěmbaụ dingangu weran sire e man sěmbaụ dingangu ini e wuhụewe lai panẹ̌takengu kal᷊awọu karakin sire. Tawẹ karěngụe lai i sire sarung makatohạ baewe lai mẹ̌koạ apa tuhụewe kapulun sire.
Mapiawe i kitẹ e lumintụ kụ mapẹ̌kal᷊imbuhungkon beran sire e, tadeạu i sire e tawe mahangkaěnnaěng sěmbaụ su wal᷊ine."
Kerene MAWU e něngal᷊iaes'i sire e niapakakeke su kaguwạu dunia. Bọu e i sire něngědo e němangung soa e.
Hakịu soa ene nisěbạe Babel, batụu MAWU napẹ̌kal᷊imbuhungu werang kạguwạu dunia e sene, mase i sire niapẹ̌sal᷊iawuhẹ̌ su kaguwạu dunia e.
Source: https://www.bible.com/bible/2894/GEN.11.SXN.
---
[top]
BUKI SUSI Wahasa ngu Taghul᷊andang l᷊ou-l᷊ou
Manara ngu Babel
Su titae, manga bangsa su kal᷊abo u dunia kitang pia wahasa simbau dang didato ngi sire ko musul᷊ung.
Su tempo ngi sire nul᷊umal᷊eng nangal᷊ing sarang simbuka ngu raki, i sire nurating su l᷊ewae simbau su Babilonia, bou e'e natana su se'e.
I sire nangul᷊i singkatau su ko wal᷊inge, "Maite i kite mukoa watu tela dang tutungang sarang pakakitihi." Dingang kere'e i sire pia watu tela guna ngu watu ngu wal᷊e l᷊au teri guna ngu rarikenge.
Angkung i sire, "Maite i kite mupararisi soa dingang u manarae simbau ko pusue murating u l᷊angi, tadeau i kite tumeleng dang ta mukal᷊iaesi su kal᷊abo dunia."
Kuteu MAWU nul᷊umintu nutuhung soa l᷊au manara ko kahikoa u taumata.
Bou e'e I Sie nuhengetang, "I sire i'i bangsa simbau dingang u wahasa simbau, dang i'i mbuhue tita u manga karaki i sire. Takoae l᷊iwue nge l᷊ai i sire sarung makakoa apang ko ikao i sire.
Mapiang i kite l᷊umintu dang mungal᷊imbuhung wahasa ngi sire tadeau i sire ta makahingang l᷊ai simbau dingang ko wal᷊inge."
Kere MAWU nangaesi si sire sarang kal᷊abo u dunia. Bou e'e i sire nangiro nupararisi u soa e'e.
Watu e'e soa e'e nisigho Babel, Ual᷊ingu soa e'e MAWU nangal᷊imbuhung wahasa ngu kaul᷊i u bangsa dang bou tampa e'e i sire nipukaesi u MAWU sarang kal᷊abo u dunia.
Source: https://www.bible.com/bible/3184/GEN.11.PLT.
[top]
Contributed by Wolfgang Kuhl
Information about Sangirese | Tower of Babel
Tower of Babel in Philippine languages
Ata Manobo, Balangao, Bantoanon, Bikol, Bontoc, Cebuano, Cuyono, Hiligaynon, Iloko, Ifugao, Isnag, Itawis, Kagayanen, Kankanaey, Kapampangan, Keley-i, Kinaray-a, Malaweg, Maranao, Matigsalug Manobo, Pangasinan, Pangutaran Sama, Sangirese, Sarangani Blaan, Sarangani Manobo, Southern Kalinga, Tagabawà, Tagalog, Tagbanwa, Talaud, Tuwali, Waray-Waray, Western Bukidnon
Other Tower of Babel translations
By language | By language family
[top]
---

Why not share this page:

If you like this site and find it useful, you can support it by making a donation via PayPal or Patreon, or by contributing in other ways. Omniglot is how I make my living.
Note: all links on this site to Amazon.com
, Amazon.co.uk
and Amazon.fr
are affiliate links. This means I earn a commission if you click on any of them and buy something. So by clicking on these links you can help to support this site.
Get a 30-day Free Trial of Amazon Prime (UK)
If you're looking for home or car insurance in the UK, why not try Policy Expert?
[top]