Shawnee (Sawanwa)
Shawnee is a Central Algonquian language with about 200 speakers in central and northeastern Oklahoma. It was originally spoken in Ohio, Kentucky, and Pennsylvania.
During the 19th century and 20th century, a number of spelling systems for Shawnee were developed by missionaries, linguists and anthropologists. One system was devised by a Shawnee, Thomas Wildcat Alford. None of these spelling systems were widely adopted. The earliest known text in and about the Shawnee language was A Story of the Shawnee, by George Blue Jacket, which was published in Wapaughonnetta on 29 October 1829.
Shawnee pronunciation (Shawnee Orthography)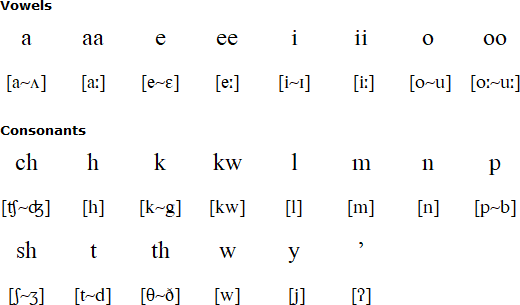 Further information about Shawnee pronounciation and a comparison of the spelling systems for Shawnee can be found at: http://www.shawnee-traditions.com/Sounds.html
Sample text in Shawnee
Waske pakekiliwewa, chena pakekiliwewa wece hipemile Tapalamalikwa, chena pakekiliwewa Tapalamalikwa.
Translation
In the beginning was the Word, and the Word was with God, and the Word was God.
John 1: 1
Source: http://www.shawnee-bluejacket.com/stories_from_Gatschet/texts.htm
Links
Information about the Shawnee language and culture
http://en.wikipedia.org/wiki/Shawnee_language
http://www.shawnee-traditions.com
http://www.native-languages.org/shawnee.htm
http://www.shawnee-bluejacket.com/shawnee_Language.htm
Say it in Shawnee - a book and CD that teaches conversational Shawnee
http://shawneelanguage.homestead.com
Official site of the Absentee Shawnee
http://www.astribe.com
Algonquian languages
Other languages written with the Latin alphabet