Abenaki (Alnôba)
Abenaki is an Eastern Algonquian language with only a handful of fluent speakers, and perhaps several hundred non-fluent speakers. Most Abenaki speakers are elderly and live on the Odanak reservation in Quebec, Canada. It was originally spoken in Vermont, New Hampshire, and Maine. Efforts are being made to revive the language.
There are two main groups of Abenaki dialects: Western Abenaki, which is still spoken in Quebec; and Eastern Abenaki, which was spoken until quite recently by some of the Penobscot tribe in eastern Maine.
Abenaki pronunciation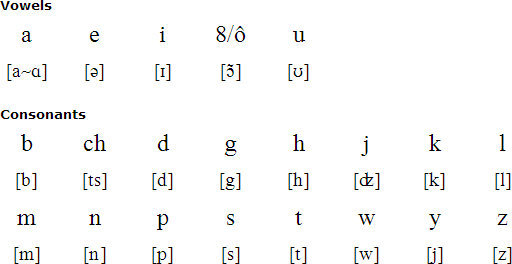 Note: I cannot find information about the alphabetical order of this language.
Download an Abenaki alphabet chart (Excel)
Sample text in Abenaki
Kassiwi Niona Enna Odakozik Chibaio Agaskwikok
Kizos Aalakws Nionakiya Alnobanogan Nionakiya
Aw8zsiswogan Enni Taolani Agaskwikok Noesal Niona
Kizosaltoalakws Taolawisi Maskozisis Taolwisi Nolka Moz
Sibo Ikok Pon Tekw
Wobigid Sanoba Magigwogan
N'mahomios Chibaio
Amikimek Pmegamek Agakidozik
Kazaldozk Nigawes Spemki Toldal8zi Nosokazik
Niona Aho Wobenakiak Kizos Posiwaganogan
Wobenakiak Mozmozik Odiozon
Kinikinik Volcanda Kottliwi Kwahliwi Tapsiwi
Translation
With We Who Visit Ghosts From
The Sun Star of Our Birth and in Our
Infancy Which Is from the Land of
The Rising Star as Long as the Deer and Moose Shall Run Free and the Grass Shall Grow
And the Rivers Run Swiftly the Abenaki Shall Survive
The Whiteman's Wickedness
Again Our Grandfathers Spirits
Have Given Us Guidance and Wisdom to
Rise and Come Together to Dance We Have Been Taught
To Love Mother Earth and to Respect Her
We Are the Children of the Dawn the People
Of the East May the Great Spirit and
The Great Creator Bless Us and Smile upon Us
Chief Edwin "Joe" Pero - Coos (Cowasuck) Deer Clan Prayer
Source: http://www.cowasuck.org/language/lesson23.htm
Video in Abenaki
Links
Information about the Abenaki language and culture
http://www.native-languages.org/abna.htm
http://en.wikipedia.org/wiki/Abenaki_languagebr /> http://westernabenaki.com
http://www.endangeredlanguages.com/lang/abe
Online Abenaki lessons
http://www.cowasuck.org/language/language.htm<
http://freepages.genealogy.rootsweb.com/~abenaki/Wobanaki/
Online Abenaki dictionaries
http://westernabenaki.com
http://www.freelang.net/online/abenaki.php
Ne-Do-Ba - The Abenaki of Western Maine
http://www.avcnet.org/ne-do-ba/
Abenaki Language Preservation
http://www.abenakilanguage.org
Algonquian languages
Other languages written with the Latin alphabet