Tengwar mode for Icelandic
Tengwar is a fictional alphabet invented by J.R.R Tolkien to write several of the languages he created. This version of Tengwar was made by Charlotte Rivers because she believes all people should be able to write in it, no matter what language they speak.
Notable features
Written from left to right in horizontal lines
Vowels are indicated by diacritics that go over the preceding consonant. When they appear at the beginning of a word or stand alone, they go over a vowel carrier - long for long vowels, etc.
A wavy bar under the consonant doubles it, and a bar above shows a preceding n or m sound.
When a vowel follows it, use silme nuquerna, esse nuquerna, and rómen for s, ss, and r, respectively.
Yanta and úre are used for dipthongs, with úre also representing ö.
Halla is used for word-initial h, while hyarmen is used everywhere else.
Hwesta sindarinwa can be used for hv also, and vala and wilya for v.
At the beginning of words, anna can become a silent vowel carrier to make it more aesthetically pleasing.
Tengwar mode for Icelandic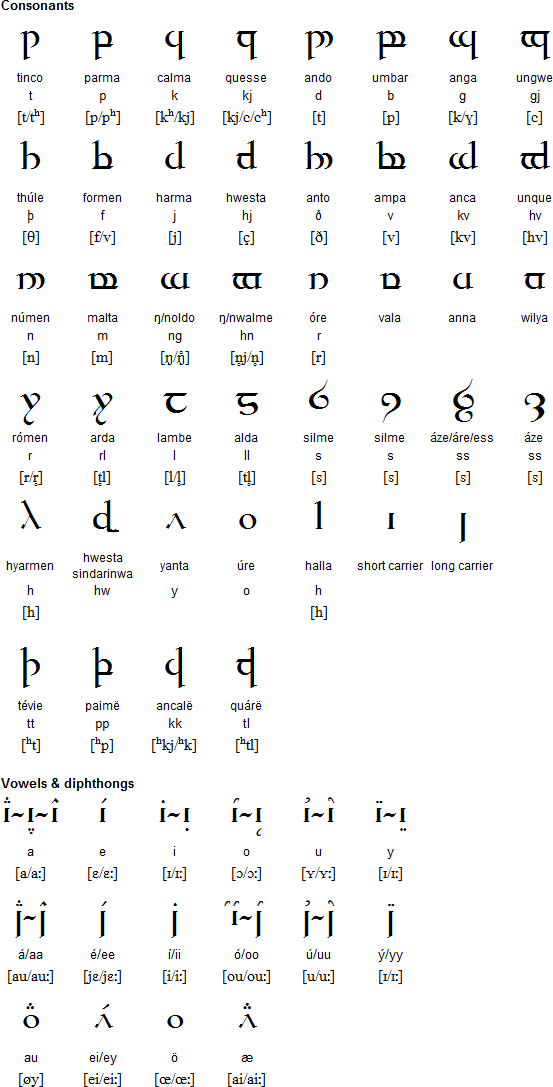 Sample text

Transliteration
Eitt tungumál er aldrei nóg.
Translation
One language is never enough.
Information about Icelandic | Phrases | Family words | Tongue twisters | Tower of Babel | Learning materials
Tengwar pages
Tengwar for Quenya, Sindarin, Arabic, English, High Valyrian, Hungarian, Icelandic, Portugese, Scottish Gaelic (1), Scottish Gaelic (2), Spanish, Latin American Spanish, Welsh
Tolkien's alphabets and languages
Cirth | Sarati | Tengwar for Quenya | Tengwar for Sindarin | Uruk Runes | Quenya phrases | Tolkien-related links | Books about Tolkien's invented languages | Tolkien's books in various languages