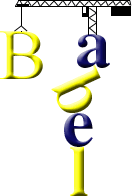 The Tower of Babel (Genesis 11: 1-9)
Salitan Pangasinan (Pangasinan)
Say Torre na Babel
Et dia ed á dalin saksakey nen saman so nengneng na salita, tan saksakey á nengneng so panagbalikas to.
Et agawa á sanen peles da á manakakar ya amaarap ed bukig, akalmo ra na sakey á mapatar á talogtog ed dalin na Sinar; et nanayam irad man.
Et inkuan na sakey tan sakey ed sikara, Dago kayo, mangawa itayo na lario ta palbaen ti ra á maomaong. Et wala so lario ra nen saman á pinagkabato ra tan galagala á pinagkalargamasa ra.
Et inkuan da, mangipaalagey itayo na sakey á ciudad tan sakey ya ilang, á say toktok to makasabi ya anga ed tawen; tan mangawa itayo na sakey á ngaran á kirayewan tayo; ag la piga no nikaykayat itayo ed tapew na amin á dalin.
Et si Jehova inmakseb ta nengnengen to so ciudad tan say ilang ya inpaalagey na saray ának na totoo.
Et si Jehova inkuan to, Nia, saksakey so katooan tan saksakey so salita ya wala ed sikara ya amin; et sikatoya so ginapoan da á gawaen: et natan angapo á balot so makaamper naani ed sikara ed saya á ninónot da á gawaen.
Iti'la, onlasor itayo, tan pandurumaen tayo so salita ra, pian agda natalosan so salita na sakey tan sakey.
Kanian si Jehova inkaykayat to ra nanlapud man ed tapew na amin á dalin: et pinaulian da so pamapaalagey da ed ciudad.
Kanian say ngaran na saman tatawagen á Babel; makalanor ed winetwet nen Jehova'd man so salita na amin á dalin: tan nanlapud man inkaykayat ira nen Jehova ed amin á tapew na dalin.
Source: Say Santa Biblia A Niluganan Na Saray Masagrado A Libro Ed Daan Tan Balon Sipan. Pangasinan Bible, Philippine Bible Society, 1982.
Contributed by Wolfgang Kuhl
Information about Pangasinan | Numbers in Pangasinan | Tower of Babel in Pangasinan
Tower of Babel in Philippine languages
Ata Manobo, Balangao, Bikol, Bontoc, Cebuano, Cuyono, Hiligaynon, Iloko, Ifugao, Itawis, Ivatan, Kagayanen, Kankanaey, Kapampangan, Keley-i, Kinaray-a, Malaweg, Maranao, Matigsalug Manobo, Pangasinan, Pangutaran Sama, Southern Kalinga, Tagabawà, Tagalog, Tagbanwa, Tuwali, Waray-Waray, Western Bukidnon
Other Tower of Babel translations
By language | By language family