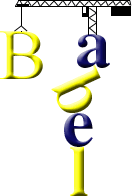 The Tower of Babel (Genesis 11: 1-9)
Kankana-ey (Kankanaey)
Din Nankinalasian Di Kalin Di Ipogaw
Idi siya di, es-esa di kalin di am-in ay ipogaw isnan daga.
Idi manbiyahi da pay ay emey sin kad-an di belaan di agew, waday dinatngan da ay annawa ay tanap ed Sinar* et nan-ili das di.
Idi namingsan, nanngangalat da yan kanan da, "En tako mandamilislinang ta way amagen tako si beey tako." Et say inyat da di. Inset da ay nangioto sin linang ta komenteg, et aspalto abe di inpakpak da.
Asi da kanan, "Man-amag tako et si siyodad ay way beey ay omdas ed daya ta say madayaw tako ya aditako mansisian sin labaw di daga."
Osdongan pay Diyos din siyodad ya din nakayang ay beey ay am-amagen da,
kanana, "Mo say iyat da sa ed wani tan es-esay nemnem ya kali da, maga di adi da kabaelan sin tapin di agew.
En tako ngarud isdi ta pankinalasien tako di kali da ta say adi da mankinaawatan."
Et say inamag Diyos di, et pag mansisian din kaipoipogaw sin labaw di daga yan adi da intoloy ay nangamag sin siyodad ay doy.
Say begew ay nginadanan da din ili ay doy si Babel† ono Babilonia, tan say nangipankinalasian Diyos sin kalin di ipogaw. Et nanlogi isdi, enggay naiwarawaras da sin intiro ay lobong.
* 11:2 Di esa abe ay ngadan din ili ay nay et Babilonia.
† 11:9 Mais-o di kadngean di Babel sin kalin di Hebreo ay din olog na et "nankinalasi."
Source: The Holy Bible in the Kankanaey language of the Republic of the Philippines. Wycliffe Bible Translators of Canada, Inc., 2016.
Information about Kankanaey | Numbers | Tower of Babel
Tower of Babel in Philippine languages
Ata Manobo, Balangao, Bikol, Bontoc, Cebuano, Cuyono, Hiligaynon, Iloko, Ifugao, Itawis, Ivatan, Kagayanen, Kankanaey, Kapampangan, Keley-i, Kinaray-a, Malaweg, Maranao, Matigsalug Manobo, Pangasinan, Pangutaran Sama, Southern Kalinga, Tagabawà, Tagalog, Tagbanwa, Tuwali, Waray-Waray, Western Bukidnon
Other Tower of Babel translations