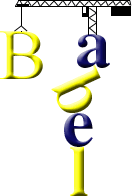 The Tower of Babel (Genesis 11: 1-9)
Balangaw / Balangao Bontoc (Balangao)
Hen nansafasafaliyan hen alen hen tatagu
Hen anchi pés-éyna, an ihà-an yanggay hen alen hen katagutagu antoy lota.
Yag yachi way chummuachuarcha hen tatagu, inyapetcha hen ommapet ah cha fùnagan hen init. Inchahancha anchi tanap ad Shinar yag fummabréycha ahchi.
Yag anchaat mantatagépfar way mangaliyén, "Ayé ta man-ammataaw ah bricks way antaaw ammag pomelopelot ah lota ta kémnég ah kaman fato." Wat faén fato hen inusarcha way nangamma hen fafaréycha te bricks ya bitumin agé hen nanlonetcha.
Yag anchaat agé ekatén, "Ayé ta man-ammataaw ah chuar way faréy ah inggawantaaw ta manfalintaaw ah ihay lumugar. Yag man-ammataaw agé ah aka-akayyang way faréy inggana ah umchah ad uchu ta wachay machamagantaaw ya ta achitaaw mahihiyan hen antoy lota."
Ngém fummafa ah Apudyus way mangila hen anchi chacha ammaan way fabréy ya hen anchi aka-akayyang way faréy.
Yag annaat ekatén, "Gapo hen kaihà-an hen alen antochay tatagu wat anchag nantitimpuyug wat kenafaelancha way nangammahto. Wat awni agé wat anchag kafaelan way mangamma ah heno way laychéncha.
Wat inta-aw ta intaaw korkoron hen alecha ta achicha mankakaennawatan way mantatagépfar."
Wat yachi hen enkaman Apudyus ah mahihiyanan hen anchichay tatagu antoy lota way anchag tenaynan hen anchi chacha ammaan way fabréy.
Wat yachi hen nangadnanan hen hiyachi way fabréy ah Babel *) te yachi hen nangorkoran Apudyus hen alen hen aminay tatagu. Yag nanepod hen yachi, anchag niwa-at hen tatagu hen antoy lota.
*) Babel: Hen laychénay aryén wat nakorkor.
Source: Hen Alen Apudyus way. Old Testament in Balangao. The Bible League, 2007.
http://www.balangao.com/en/ot
Contributed by Wolfgang Kuhl
Balangao, or Balangaw / Balangao Bontoc, is a member of the Philippine branch of Malayo-Polynesian languages spoken in Luzon in the Philippines.
More information about Balangao
http://en.wikipedia.org/wiki/Balangao_language
http://www.ethnologue.com/language/blw
http://www.balangao.com/blw/_8069
Numbers in Balangao | Tower of Babel in Balangao
Tower of Babel in Philippine languages
Ata Manobo, Balangao, Bikol, Bontoc, Cebuano, Cuyono, Hiligaynon, Iloko, Ifugao, Itawis, Ivatan, Kagayanen, Kankanaey, Kapampangan, Keley-i, Kinaray-a, Malaweg, Maranao, Matigsalug Manobo, Pangasinan, Pangutaran Sama, Southern Kalinga, Tagabawà, Tagalog, Tagbanwa, Tuwali, Waray-Waray, Western Bukidnon
Other Tower of Babel translations
By language | By language family