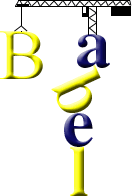 The Tower of Babel (Genesis 11: 1-9)
Oluganda (Luganda/Ganda)
N'ensi zonna zaalina olulimi lumu n'enjogera emu.
Awo, bwe baali batambula ebuvanjuba, ne balaba olusenyi mu nsi Sinali; ne batuula omwo.
Ne bagambagana nti Kale nno, tukole amatoffaali, tugookere ddala. Awo ne baba n'amatoffaali mu kifo ky'amayinja, n'ebitosi mu kifo ky'amayinja, n'ebitosi mu kifo ky'ennoni.
Ne boogera nti Kale nno, twezimbire ekibuga, n'ekigo, (ekirituusa) entikko yaakyo mu ggulu, era twefunire erinnya; tuleme okusaasaanira ddala ewala mu nsi zonna.
Mukama n'akka okulaba ekibuga n'ekigo, abaana b'abantu bye bazimba.
Mukama n'ayogera nti Laba, abo lye ggwanga limu, era bonna balina olulimi lumu; era kino kye batanula okukola: ne kaakano tewali ekigenda okubalema, kye baagala okukola.
Kale nno, tukke, tutabuliretabulire eyo olulimi lwabwe, baleme okutegeera enjogera yaabwe bokka na bokka.
Bw'atyo Mukama n'abasaasaanyiza ddala okuva eyo okubuna ensi zonna: ne baleka okuzimba ekibuga.
Erinnya lyakyo kye lyava lituumibwa Baberi; kubanga eyo Mukama gye yatabuliratabulira olulimi lw'ensi zonna: n'okuva eyo Mukama n'abasaasaanyiza ddala ensi zonna.
Source: Ekitabo Ekitukuvu ekiyitibwa Baibuli. Endaggano Enkadde n'Empya. The Bible Society of Uganda, Kampala, 1982.
Contributed by Wolfgang Kuhl
Information about Luganda | Phrases | Tower of Babel
Tower of Babel in Bantu languages
Bemba, Beti, Bulu, Chichewa, Dawida, Kamba, Kikuyu, Kinyarwanda, Kirundi, Koti, Kwanyama, Lamba, Lingala, Lozi, Luba-Katanga, Luganda, Luragooli, Mbunda, Mpongwe, Ndebele, Ndonga, Nkore, Northern Sotho, Nyakyusa, Sango, Sena, Shona, Soga, Southern Sotho, Sukuma, Swahili, Swati, Tetela, Tonga, Tsonga, Tswana, Tumbuka, Venda, Xhosa, Yao, Zulu
Other Tower of Babel translations