Podcast: Play in new window | Download
Here's the latest news from the world of Omniglot.
This week there are new pages about:
Gogo (Cigogo), a Bantu language spoken mainly in the Dodoma Region in central Tanzania.
Kuria (Igikuria), a Bantu language spoken in Tanzania and Kenya.
Gusii (EkeGusii), a Bantu language spoken mainly in Kenya and also in Tanzania.
There are two new scripts for Karbi, a Sino-Tibetan language spoken in northern India. These are: Arleng / Karbi alphabet, which was created by Sarthe Teron Milik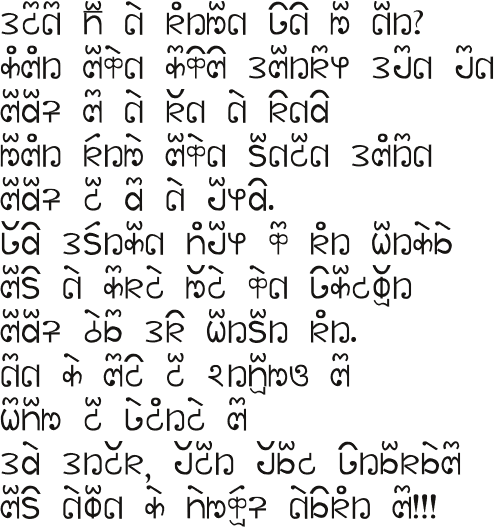 and Karbi Mek'lek, which was invented by Ripu Rahang:

There's a new constructed script for Malay called Humaira, which was invented by Abdul Latif Hamidin and is based on the Jawi (Arabic) script for Malay.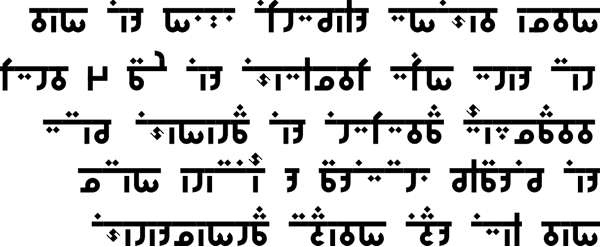 There are a new numbers pages in:
Lakota (Lakȟótiyapi) and Dakota (Dakhótiyapi), Siouan languages spoken in parts of the USA and Canada.
Gusii (EkeGusii), a Bantu language spoken in Kenya and Tanzania.
The new Omniglot blog post this week is called Dawning, and there's the usual Language Quiz as well – see if you can guess what language this is.
The mystery language in last week's language quiz was Kosraean (Kosrae), a Micronesian language spoken in Kosrae State in the Federated States of Micronesia.
The Celtiadur post this week is about words for dough and related things in Celtic languages.
In the Adventure in Etymology this week we look into the origins of the word anniversary, as yesterday was my birthday, or the anniversary of my birth, and anniversary is etymologically more interesting than birthday.
For more Omniglot News see:
https://www.omniglot.com/news/
https://twitter.com/Omniglossia
https://www.facebook.com/groups/omniglot/
https://www.facebook.com/Omniglot-100430558332117
You can also listen to this podcast on: Apple Podcasts, Amazon Music, Stitcher, TuneIn, Podchaser, PlayerFM or podtail.
If you would like to support this podcast, you can make a donation via PayPal or Patreon, or contribute to Omniglot in other ways.