Shanghainese (上海闲话 / Zanhe-ëwo)
Shanghainese is a dialect of Wu spoken by about 14 million people in Shanghai. There are also many Shanghainese speakers in Hong Kong. There is no standard written form of Shanghainese and it rarely appears in writing. Though the language is the everyday spoken language of Shanghai, it isn't used in education and is only occasionally heard on local radio stations.
The Common Chinese Language movement was started by Shanghai intellectuals and writers during the early 20th century to create a common vernacular medium for national communication. Mandarin was selected as the base, due to the large number of Mandarin speakers in China and its relative simplicity. The bulk of vernacular Mandarin Chinese literature were written not by native Mandarin speakers but by native Wu and Shanghainese speakers. As result, a lot of today's Mandarin Chinese vocabulary comes from Wu Chinese via these literary works. The words and usages have become so well adapted into Standard Mandarin that most speakers assume they are indigenous to Mandarin rather than being cognates of Shanghainese.
What the early Shanghainese proponents for a common Chinese language did not anticipate was that Standard Mandarin's promotion would be handled through the simultaneous oppression of all other Chinese regionalects, and most harshly on Wu and Shanghainese.
Recently Shanghainese has become popular in Shanghai's underground music scene as something that challenges the dominance of Mandarin and Cantonese in music.
Shanghainese pronunciation (Zanhe-ëwo Rumazi)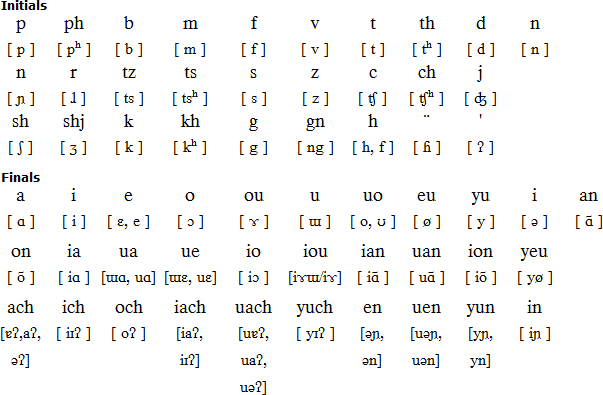 Latin Phonetic Method for Shanghainese
Tone indication
The normal tone is not marked, eg bin, the long tone is marked with an h or r, eg chih, and the short tone is marked with a q, eg zaq.
Hū'in, an alternative Romanization system for Shanghainese devised by Arthur Thompson
Details of a unified Romanization system for Wu Chinese based on Shanghainese devised by Sébastian Gantois (PDF, in French)
Information about Shanghainese | Shanghainese phrases | Shanghainese numbers | Shanghainese learning materials
Links
Information about Shanghainese
http://en.wikipedia.org/wiki/Shanghainese
http://www.shanghainese.info
Online Shanghainese lessons
http://www.fyan8.com/shanghai/
http://www.zanhei.com
http://www.youtube.com/watch?v=adPQqUTpYYI


Omniglot Chinese
learn to read, write and pronounce Chinese characters
Shanghainesee pronunciation
http://www.wuunion.com/home/html/wugniutzyseq1/2009/0831/7.html
http://edu.sina.com.cn/l/2001-09-10/15828.html
Shanghainese dictionary
http://wu-chinese.com/minidict/search.php
上海人 | 世界第一上海前沿文化平台 - Top Shanghai youth culture portal
http://www.shanghaining.com
Dungan, Cantonese, Fuzhounese, Gan, Hakka, Mandarin, Puxian, Shanghainese, Taiwanese, Teochew, Wenzhounese, Xiang