Taiwanese (臺語 / Tâi-gí)
Taiwanese is a variety of Mĭn Nán (Southern Min) spoken in Taiwan. The ancestors of the majority of Taiwanese people came from the southern part of Fujian province and their language is very similar to the language of that region, particular to the dialect of Xiamen.
Taiwanese is also known as 臺語/台語 (tâi-gí), 福佬 (ho̍h-ló) or Hoklo, 閩南語 (Bân-lâm-gí) or Southern Min, or Taiwan Hokkien.
Until the 1980s use of the Taiwanese language was banned in schools and the number of Taiwanese programmes on the radio and television was restricted. These restrictions have now been lifted and Taiwanese is taught as a subject in some schools and used as a medium of instruction in others. Some companies have made Taiwanese as their official language and Taiwanese broadcasts are now common.
Today about 70% of the population of Taiwan (15 million people) speak Taiwanese and most also speak Mandarin. Taiwanese is spoken in most parts of Taiwan and some people are more comfortable using Taiwanese than Mandarin.
Ways of writing Taiwanese
Taiwanese first appeared in writing in the late 19th century in a Romanisation system known as Pe̍h-ōe-jī (POJ). Since then a number of different methods of writing Taiwanese have been devised, some using the Latin alphabet, some using Chinese characters, some using Japanese kana, and others using a mixture of the different scripts.
Pe̍h-ōe-jī (POJ)
Pe̍h-ōe-jī (白話字) or Church Romanization is a Latin-based orthography for varieties of Southern Min, especially those spoken in Taiwan and Xiamen (Amoy). It was devised by Western missionaries during the 19th century and proved popular in Xiamen, and later spread to Taiwan. It was used to publish a variety of religious and secular material, including a translation of the Bible and the Taiwan Church News, Taiwan's first newspaper.
POJ was suppressed between 1895 and 1945 when Taiwan was occupied by the Japanese, and also during the period of martial law under the Kuomingtang (1947–1987), and is no longer widely used, except by some Christians in Taiwan, learners of Taiwanese and a few others. Since 2004 it has been possible to type in POJ on computers, and input methods and online dictionaries have been developed.
Taiwanese phonetic transcription system (DT)
The Taiwanese phonetic transcription system or Daī-ghî tōng-iōng pīng-im (臺語通用拼音) is a way of writing Taiwanese using the Latin alphabet. It is based on Tongyong Pinyin (通用拼音), the official Romanization of Mandarin Chinese in Taiwan between 2002 and 2008.
Modern Literal Taiwanese (MLT)
Modern Literal Taiwanese (MLT) is a Latin-based orthography for Taiwanese based on the Taiwanese Modern Spelling System (TMSS), which was developed in 1945 by Professor Liim Keahioong, formerly of the Cheng-Kung University in Taiwan, and based on POJ. MLT using only standard Latin letters without any diacritics and indicates tones with spelling.
The Taiwanese Romanization System
The Taiwanese Romanization System (台灣閩南語羅馬字拼音方案 / Táiwān Mǐnnányǔ Luómǎzì Pīnyīn Fāng'àn / Tâi-ôan Lô-má-jī Peng-im Hong-àn), which is often refered to as Tâi-lô or Tailo, is a transcription system for Taiwanese. It is derived from Pe̍h-ōe-jī and has been officially promoted by Taiwan's Ministry of Education since 2006.
Extended bopomofo
An version of the phonetic script known as bopomofo or zhuyin fuhao (注音符號) is used to some extent in Taiwan to annotate the Taiwanese pronunciation of characters and to write Taiwanese words for which there are no characters.
Taiwanese pronunciation
This chart shows the transcription and pronunciation of Taiwanese in Pe̍h-ōe-jī (POJ), the Taiwanese phonetic transcription system (DT), Modern Literal Taiwanese (MLT), Extended bopomofo (BPMF), and the International Phonetic Alphabet [IPA].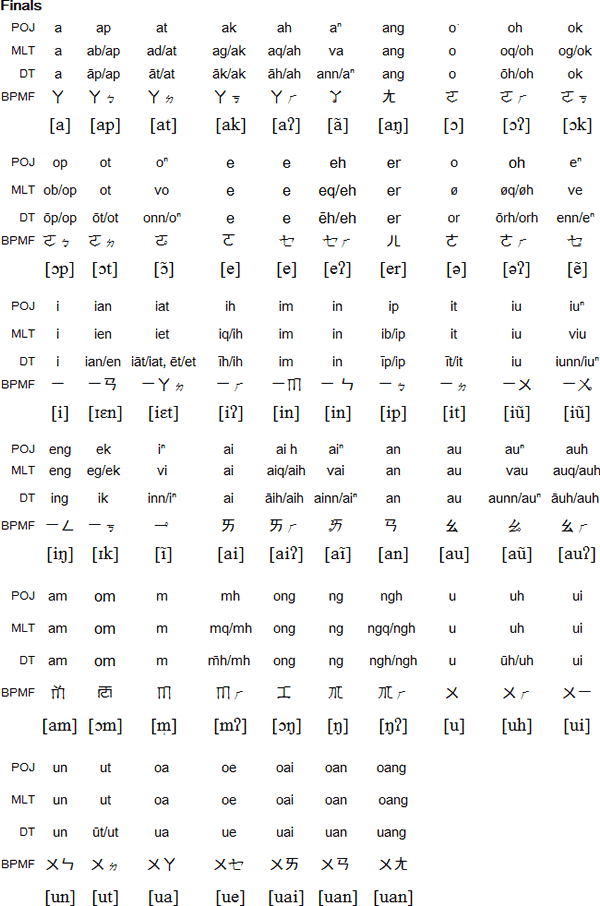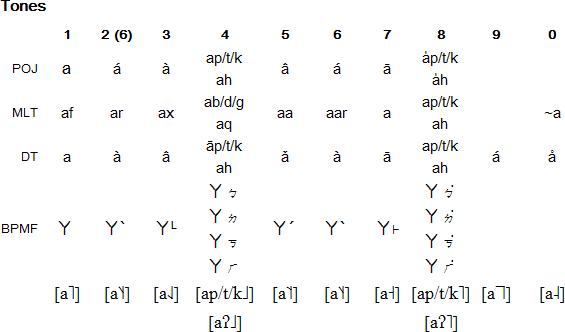 Sample text in Taiwanese
Pe̍h-ōe-jī (POJ)
Lâng-lâng seⁿ-lai chū-iû, chāi chun-giâm kah kôan-lī siōng i̍t-li̍p pêng-téng. In hù-iú lí-sèng kah liông-sim, lì-chhiaⁿ éng-kai i hiaⁿ-tī koan-hē ê cheng-sîn hō-siong túi-tāi.
(Lēn-hà-kok sè-kāi jīn-khōan sōan-gên, tē it tiâu)
Taiwanese phonetic transcription system (DT)
Lāng-lăng seⁿ-låi zû-iŭ, zāi zūn-ghiăm gāh kuăn-lī siòng it-lip bīng-dìng. In hù-iù li-sîng gāh liōng-sim, lî-ciaⁿ ìng-gai i hiānn-dī gūan-hē ē zīng-sĭn hō-siōng dùi-dāi.
(Lēn-hâ-gōk sê-gāi rīn-kūan sūan-ghěn. dē īt diǎu)
Modern Literal Taiwanese (MLT)
Langlaang svilai zuxiuu, zai zungiaam kab khoanli siong itlut pengterng. Yn huoiuo lysexng kab liongsym, peng irnie hviati koanhe ee cviasiin hoxsiong tuiethai.
(Lienhabkog seakaix jinkhoaan soangieen, Te id tiaau)
Chinese characters and Pe̍h-ōe-jī
人人生 lai 自由﹐在尊嚴及權利上一律平等。 In 賦有理性及良心﹐ lì-chhiaⁿ éng-kai i 兄弟關係 ê 精神互相對待。
(聯合國世界人權宣言,第一條)
Translation
All human beings are born free and equal in dignity and rights. They are endowed with reason and conscience and should act towards one another in a spirit of brotherhood.
(Article 1 of the Universal Declaration of Human Rights)
Sample video in Taiwanese
See more videos like this on Wikitongues
Information about Taiwanese | Taiwanese phrases | Tower of Babel in Taiwanese | My Taiwanese learning experiences | Taiwanese learning materials
Chinese Translation


of names and phrases
Links
Information about Taiwanese
http://en.wikipedia.org/wiki/Taiwanese_Hokkien
http://www.ntcu.edu.tw/tailo/default.htm
http://www.taiwanderful.net/guides/learning-taiwanese
http://guamae.moe.gov.tw
Information about written Taiwanese
http://en.wikipedia.org/wiki/Daighi_tongiong_pingim
http://en.wikipedia.org/wiki/Modern_Literal_Taiwanese
http://www.taiwanderful.net/guides/writing-taiwanese-using-chinese-characters
http://www.taioanji.com
Online Taiwanese lessons
http://www.youtube.com/playlist?list=PL41797BA5E0DBB4FD&feature=plcp
http://taiwanesevocabulary.wordpress.com/
http://www.taiwanese-oki.idv.tw/
http://taiwanesegrammar.wordpress.com/
http://learntaiwanese.taioaan.org


Omniglot Chinese
learn to read, write and pronounce Chinese characters
Online Taiwanese dictionaries
http://twblg.dict.edu.tw/holodict_new/
http://210.240.194.97/TG/jitian/tgjt.asp
http://210.240.194.97/q/q.asp
http://www.edutech.org.tw/dict/Harnji-gwsuu0.htm
http://taigi.fhl.net/dict/
http://www.taiwanesedictionary.org
Taiwanese phrases
http://wikitravel.org/en/Taiwanese_phrasebook
Online radio in Taiwanese (and in Mandarin and Hakka)
http://www.bcc.com.tw
http://big5.soundofhope.org/category-478-1.htm
Dungan, Cantonese, Gan, Hakka, Mandarin, Shanghainese, Taiwanese, Teochew, Xiang