Podcast: Play in new window | Download
Here's the latest news from the world of Omniglot.
New constructed script: Soneka, which was devised by Paul Mbongo as an alternative way to write Lingala.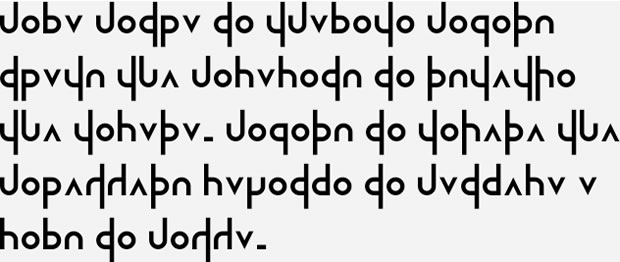 New constructed script: Oktyr, which was created by Gruzijslav Zistoksovshvili (გრუზისლავი ზისტოქსოვშვილი) to write a constructed language by the same name.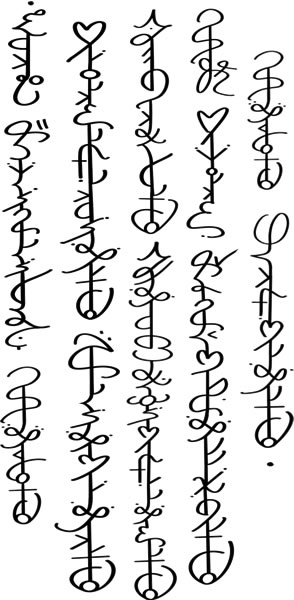 New adapated script: Tengwar for Greek, a way to write Greek with Tolkien's Tengwar script created by Stavros and Nikos Neofotistos.

There are new language pages about:
New numbers pages:
Urak Lawoi' (อูรักลาโวยจ), a Malayic language spoken in Phuket, Krabi and Satun provinces in southern Thailand.
Heiltsuk (Haiɫzaqvla), a northern Wakashan language spoken in British Colimbia in Canada.
Haisla (X̄a''islak̓ala), a northern Wakashan language spoken in British Colimbia in Canada.
There's a new Omniglot blog post about the expression Jot & Tittle, which refers to the the smallest details, and there's the usual Language Quiz. See if you can guess what language this is:
Here's a clue: this language is spoken in Norway and Sweden.
The mystery language in last week's language quiz was Carolinian (Refalúwasch), a Micronesian language spoken in the Northern Mariana Islands.
There's a new Celtiadur post entitled Haughty Pride and I improved the post about words for Right & South.
In this week's Celtic Pathways podcast, we find connections between words for Big in Celtic languages and words related to chestnuts in other languages.
For more Omniglot News see:
https://www.omniglot.com/news/
https://twitter.com/Omniglossia
https://www.facebook.com/groups/omniglot/
https://www.facebook.com/Omniglot-100430558332117
You can also listen to this podcast on: Apple Podcasts, Amazon Music, Stitcher, TuneIn, Podchaser, PlayerFM or podtail.
If you would like to support this podcast, you can make a donation via PayPal or Patreon, or contribute to Omniglot in other ways.
Radio Omniglot podcasts are brought to you in association with Blubrry Podcast Hosting, a great place to host your podcasts. Get your first month free with the promo code omniglot.