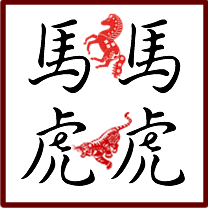 In Mandarin Chinese there's an idiomatic expression that translates literally as "horse horse tiger tiger". What do you think it means?
There is some interesting discussion about this idiom on the podcast Global Pillage, where they discuss idioms and customs from around the world. Suggestions for the meaning of this idiom included "social classes don't mix", "only date within your tax bracket", "you wait for a bus for ages, and three come along at once", "six of one, half a dozen of the other"
This expression is written 马马虎虎 [馬馬虎虎] (mǎmǎhǔhǔ) and means "careless,casual, vague, not so bad, so-so, tolerable, fair" and is a reduplicated version of 马虎 [馬虎] (mǎhǔ) "careless, sloppy, negligent, skimp".
Here are some examples of how it's used:
– 你的中文讲得好棒啊 (Nǐ de zhōngwén jiǎng de hǎo bàng a) = You speak Chinese well
– 马马虎虎,马马虎虎 (Mǎmǎhǔhǔ, mǎmǎhǔhǔ) = Just so-so
– 那家餐馆的服务马马虎虎 (Nà jiā cānguǎn de fúwù mǎmǎhǔhǔ) = The service at that restaurant is so-so
– 他马马虎虎地做事 (Tā mǎmǎhǔhǔ de zuòshì) = He does his work carelessly
– 他这个人做事比较马虎 (Tā zhège rén zuòshì bǐjiào mǎhǔ) = He's a sloppy / rather careless person
The origins of this phrase are uncertain. The earliest known use was during the Yuan Dynasty (1271–1368). It might be related to 模糊 (móhu – unclear, fuzzy) or 麻糊 (máhú – careless), or it might have been borrowed from the Manchu mahu (wry, face) or lahū (not adept, unskilled [especially at hunting and dealing with livestock]; scoundrel, hoodlum).
I remember reading somewhere, though I can't find any confirmation, that this phrase is borrowed from the Sanskrit word मोह (moha), which means 'magic employed to bewilder, error, bewilderment, foolishness, wonder, infatuation, delusion, confusion, amazement, distraction, inability to discriminate, perplexity, ignorance, loss of consciousness, hallucination'. Has anybody else read or heard this theory?
Here's an alternative story about its origins.
Source: MDBG Dictionary, Wiktionary, Sinoglot, Sanskrit Dictionary for Spoken Sanskrit, Learn a Chinese Charachter a Day, StakeExchange.