Loma (Löömàgòòi / Löghömàgòòi)
Loma is a Mande language spoken by approximately 420,000 people in northwest of Liberia, and in neighbouring parts in Guinea. The language is also known as Loghoma, Looma or Lorma, and native names for Loma include Löömàgìtì, Löghömagiti, Löömàgòòi and Löghömàgòòi.
The Loma syllabary was invented during the 1930s by Wido Zobo (Widɔ Zoɓo) of Boneketa in Liberia. It was used among the Loma people, mainly for personal correspondence, during the 1930s and 1940s but is no longer used having been replaced by the Latin alphabet.
Notable features
Type of writing system: syllabary
Direction of writing: left to right in horizontal lines.
Used to write: Loma
Some syllables here several versions.
Loma syllabary

Latin alphabet for Loma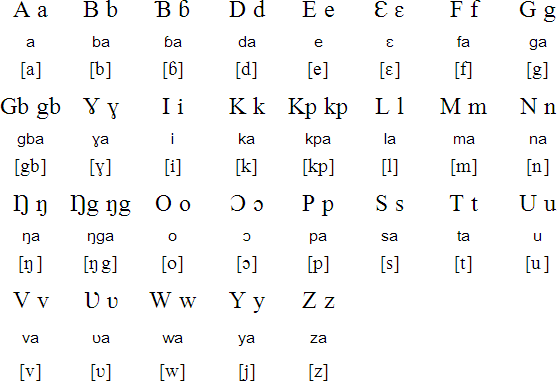 Sample text (The Lord's Prayer)
Yài è ga gé ɣeeai è gee-zuvɛ,ɓaa ɣa la yà laa-zeigi ma,yà masadai va,è yii-mai ɣɛ zui zu è ɣɛ velei é ɣɛɛzu la è wɔ vɛ,è zaa mii ŋenigi ʋe gé ya,è gé vaa ʋaitiɛ zu ʋaa yɛ,è ɣɛ velei gá ɓalaa gé zɔitiɛ zu ʋaa yɛga la gá ʋaa yega te va.Mɛ lɛ kɛ tɛ-ga ɔ́ wo ga gíɛ,kɛ̀ è gé wulo tuɓo-vele-yowũ nui ya.
Details of the Loma Latin alphabet and the sample text provided by Michael Peter Füstumum. Loma font by Jason Glavy.
Links
Information about the Loma language and syllabary
https://en.wikipedia.org/wiki/Loma_language
https://de.wikipedia.org/wiki/Loma_(Sprache)
http://www.unicode.org/L2/L2010/10005-n3756-loma.pdf
https://www.ethnologue.com/language/LOM
Mande languages
Bambara, Busa, Kpelle, Loma, Mandinka, Maninka, Mende, Soninke, Susu, Vai
Bamum, Caroline Island Script, Celtiberian, Cherokee, Cypriot, Eskayan, Hiragana, Iban, Iberian, Katakana, Kpelle, Loma, Mende, Mwangwego, Ndjuká, Nüshu, Vai, Yi