Podcast: Play in new window | Download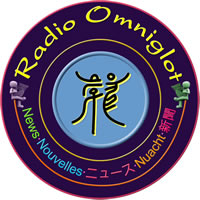 Here's the latest news from the world of Omniglot.
There are new language pages about:
New numbers pages:
Bole (bṑ pìkkà), a West Chadic language spoken mainly in Yobe and Gombe states in the northeast of Nigeria.
Badaga (படகா / ಬಡಗ), a southern Dravidian language spoken in Tamil Nadu and Kerala in southern India.
Tokodede, a Malayo-Polynesian language spoken in East Timor.
There's a new idiom page with versions of the saying As Snug as a Bug in a Rug in various languages.
On the Omniglot blog there's a new post about Snudging & Snuggling and related words, and there's the usual Language Quiz. See if you can guess what language this is:
Here's a clue: this language is spoken in Himachal Pradesh in northern India.
The mystery language in last week's language quiz was Guambiano (Nam Trik), a Barbacoan language spoken in southwestern Colombia.
In this week's Adventure in Etymology podcast, we uncover the origins of the word Ghost 👻, and find out where that ghostly h comes from.
On the Celtiadur blog there's a new post about words for Order and related things, and I made improvements to the posts entitled Bad, Frosty Ice and Quick, Fast & Lively.
I also made separate pages for the Lisu language and the Fraser alphabet.
For more Omniglot News see:
https://www.omniglot.com/news/
https://twitter.com/Omniglossia
https://www.facebook.com/groups/omniglot/
https://www.facebook.com/Omniglot-100430558332117
You can also listen to this podcast on: Apple Podcasts, Amazon Music, Stitcher, TuneIn, Podchaser, PlayerFM or podtail.
If you would like to support this podcast, you can make a donation via PayPal or Patreon, or contribute to Omniglot in other ways.
Radio Omniglot podcasts are brought to you in association with Blubrry Podcast Hosting, a great place to host your podcasts. Get your first month free with the promo code omniglot.