Useful Japanese phrases
A collection of useful phrases in Japanese with sound files for some of them.
See these phrases in any combination of two languages in the Phrase Finder. If you can provide recordings, corrections or additional translations, please contact me.
Key to abbreviations: frm = formal, inf = informal, f = said by women, >f = said to women
Other phrases
I understood
わかりました (wakarimashta) - frm
I don't speak Japanese
日本語を話せません (Nihongo o hanasemasen)
Does anyone speak English?
英語の話せる人はいませんか (Eigo no hanaseru hito wa imasen ka)
誰か、英語が話せますか
(dare ka, eigo ga hanasemasu ka?)
Sorry, I didn't understand that
すみません。分かりませんでした
(sumimasen. wakarimasen deshita)
What did you say?
なんて言いましたか
(nan te iimashita ka?)
Can you translate it for me?
訳してください
(yakushite kudasai)
What does this mean?
これはどういう意味ですか
(kore wa dōiu imi desu ka)
How do you pronounce that?
これはどんな風に発音しますか
(kore wa donna fū ni hatsuon shimasu ka)
There's a problem in the room
その部屋の中に問題があります
(sono heya no naka ni mondai ga arimasu)
There's no hot water
お湯がありません
(oyu ga arimasen)
The tap/faucet is leaking
蛇口が漏れています
(jaguchi ga moreteimasu)
The drain is blocked
排水溝が詰まっています
(haisuikō ga tsumatteimasu)
The air conditioner is too noisy
エアコンがうるさすぎます
(eakon ga urusasugimasu)
Can I have another room?
他の部屋へ移れますか
(hoka no heya e utsuremasu ka?)
When should I vacate the room?
いつ、部屋を出なくてはなりませんか
(itsu, heya o denakute wa narimasen ka?)
I'd like to check out
チェックアウトしたいのですが
(chekkuauto shitai no desu ga)
I'd check out on this date
この日にチェックアウトしたいのですが
(kono hi ni chekkuauto shitai no desu ga)
Could you call a taxi please?
タクシーを呼んで下さい
(takusī o yonde kudasai?)
May I see the bill please?
請求書を見せて頂けますか
(seikyūsho o misete itadakemasu ka?)
How much is the total bill?
請求書の合計額は、いくらですか
(seikyūsho no gōkei wa ikura desu ka?)
Can I have an itemised bill?
明細書を見せて頂けますか
(meisaisho o misete itadakemasu ka?)
I think there's a mistake on this bill
この請求書に間違いがあるように思うのですが
(kono seikyūsho ni machigai ga aruyō ni omō no desu ka?)
Is there a restaurant near here?
近くにレストランはありますか
(chikaku ni resutoran wa arimasu ka?)
I'd like to reserve a table
テーブルの予約を取りたいのですが
(tēburu no yoyaku o toritai no desu ga)
We have a reservation
既に予約をとっています
(sudeni yoyaku o totte imasu)
Do you have an English menu?
英語のメ二ューはありますか
(eigo no menyu wa arimasu ka?)
Can I see the wine list?
ワインのリストを見せて頂けませんか
(wain no risuto o misete itadakemasen ka?)
I am a vegetarian
私は菜食主義者です
(watashi wa saishokushugisha desu)
Some recordings by Soren
Note
もしもし (moshi moshi) is what you say in Japanese when you answer the phone. It doesn't mean hello, but is often translated as such. It can also be translated as "excuse me". It comes from the verb 申す (mōsu), which a humble equivalent of 言う (iu) - to say. Originally the phrase used was 申し上げます (mōshiagemasu) = "I'm going to say (talk)", which was commonly used during the Edo period to talk to people of higher status. Over time it got shortened.
Source https://www.tofugu.com/japanese/moshi-moshi/
Hear some Japanese phrases:

Download all the audio files (Zip format, 417K)
If you would like to make any corrections or additions to this page, or if you can provide recordings, please contact me.
Introduction to Japanese | Hiragana | Katakana | Kanji | Rōmaji | Phrases (Useful) | Phrases (Silly) | Numbers | Colours | Time | Dates | Family words | Tower of Babel | Articles | Links | Learning materials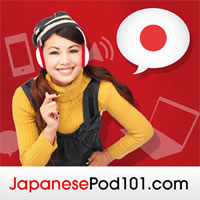 Japanese courses and other resources on Amazon

- Find Japanese Tutors with LanguaTalk
Links
Other collections of Japanese phrases (some with audio)
http://japanese-phrases.sakura.ne.jp/
https://blog.lingodeer.com/japanese-phrases/
https://www.transparent.com/learn-japanese/phrases.html
https://iwillteachyoualanguage.com/learn/japanese/japanese-tips/basic-japanese-phrases
Phrases in Japanonic languages
[top]
---

Why not share this page:

If you like this site and find it useful, you can support it by making a donation via PayPal or Patreon, or by contributing in other ways. Omniglot is how I make my living.
Note: all links on this site to Amazon.com
, Amazon.co.uk
and Amazon.fr
are affiliate links. This means I earn a commission if you click on any of them and buy something. So by clicking on these links you can help to support this site.
Get a 30-day Free Trial of Amazon Prime (UK)
If you're looking for home or car insurance in the UK, why not try Policy Expert?
[top]