An interesting word I learnt the other day while listening to the Something Rhymes with Purple podcast was scribacious, which means "prone to excessive writing" [source], "having the tendency to write a lot or too much" [source], or "addicted to writing, fond of writing" [source].
Scribacious comes from scribe (someone who writes), from the Middle English scribe, from the Old French scribe (scribe), from the Late Latin scriba (secretary), from scribere (to write, draw (up), draft, scratch).
Are there any other words that mean "fond of writing"?
Some related words include:
scribaciousnesss = the quality or state of being scribacious
scribal = relating to scribes and their work
scribely = of, relating to, or characteristic of a scribe; scribal
scribable = capable of being written upon
scribbleomania = obsession with scribbling
scripturient = having a violent desire to write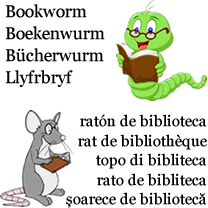 One who is fond of reading might be called bookish, a bookworm or a bibliophile. Do you know any other words for this?
In Dutch a bookworm is a boekenwurm [source], and similarly in German a bookworm is a Bücherwurm [source].
In Spanish a bookworm is a ratón de biblioteca (a library mouse), a ratón de archivo (an archive mouse), a gusano de libro (a bookworm) [source].
In French a bookworm is a rat de bibliothèque (a library rat) or a dévoreur de livres (a devourer of books) [source].
In Italian a bookworm is a topo di bibliteca (a library rat/mouse) [source].
What about in other languages?