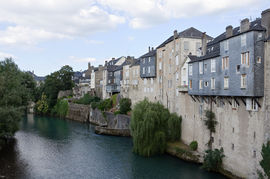 Tomorrow I'm going to Oloron-Sainte-Maire in the south west of France with members of the Bangor Community Choir, and the Coastal Voices choir from Abergele. We'll travel by coach to Birmingham aiport, fly to Bordeaux, and then continue by coach to Oloron. While we're there we will visit interesting places around the area, such as Issor, Lucq-de-Béarn, Monein, Pau, Jaca (in Spain) and Lescun, and will probably sing in most of them. We'll also perform in a concert with a local choir, la chœur sensible, in Sainte-Marie Cathedral on Saturday evening. This choir came to visit us in Wales last year and invited us to visit them this year, so this trip is a sort of choir exchange.
We will sing in a variety of languages, as usual, including English, Welsh, Zulu, Church Slavonic, Czech, Northern Ndebele, Xhosa, Croatian and Mingrelian, and we've learnt a French song especially for this trip – Belle qui tiens ma vie, pavane written in 1589.
This will be my first trip to France in 15 years, and my first time in this part of France. The region is known as Béarn, part of the department of Pyrénées-Atlantiques, and half the local people speak Béarnese, a dialect of Gascon, which is considered by some to be a variety of Occitan. When la chœur sensible visited us last year they sang a number of songs in Béarnese, which was interesting to hear. Béarn is also neighbour to the Basque provinces ofLabourd (Lapurdi), Lower Navarre (Basse-Navarre / Nafarroa Beherea), Soule (Zuberoa), and I think some members of la chœur sensible come from those provinces and speak Basque.
We'll be back in Wales on Sunday (31st), so from tomorrow to Sunday I probably won't have time to answer emails and work on Omniglot.