OshiWambo
OshiWambo is a Bantu language spoken by about 680,000 people in Namibia and Angola. Major dialects include Kwanyama (OshiKwanyama), which is spoken in northern of Namibia and southern of Angola; Ndonga (Oshi­Ndonga), which is spoken in northern Namibia; and Kwambi, which is also spoken in Namibia.
Both dialects have been used as a medium of educational instruction since the 1990s. Oshiwambo is also used on the radio to some extent in Namibia.
OshiWambo alphabet

OshiWambo pronunciation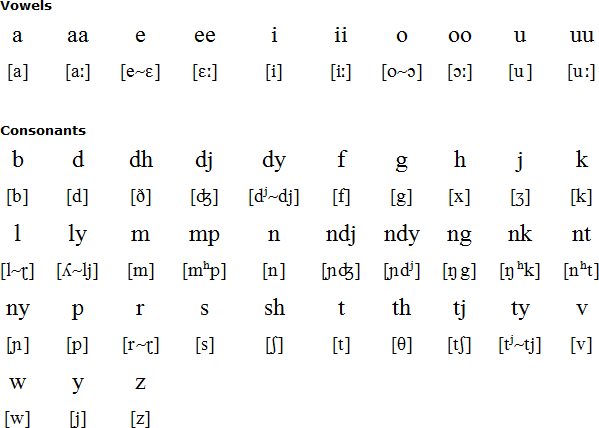 Information on OshiWambo compiled by Wolfram Siegel
Sample text in OshiWambo (Ndonga dialect)
Aantu ayehe oya valwa ye na emanguluko noye na ondilo yi thike pamwe osho wo uuthemba. Oye na omaipulo goondunge neiuvo onkene naa kalathane mombepo yuumwainathana.
Links
Information about the OshiWambo language
http://en.wikipedia.org/wiki/Oshiwambo_language
http://www.panafril10n.org/wikidoc/pmwiki.php/PanAfrLoc/Oshiwambo
Online OshiWambo lessons
http://www.schoolnet.na/languages/walelepo.html
http://www.schoolnet.na/languages/teti/moshiwambo.html
Bantu languages
Bemba, Chichewa, Comorian, Duala, Ewondo, Ganda/Luganda, Herero, Ikizu, Jita, Kikuyu, Kinyarwanda, Kirundi, Kongo, Lingala, Loma, Lozi, Makonde, Mandekan, Maore, Mende, Mushungulu, Nkore, Northern Ndebele (South Africa), Northern Ndebele (Zimbabwe), Northern Sotho, OshiWambo, Ronga, Sena, Shona, Soga, Southern Ndebele, Southern Sotho, Swahili, Swati, Tofa, Tshiluba, Tsonga, Tswana, Tumbuka, Umbundu, Venda, Xhosa, Yao, Zigula, Zinza, Zulu
Other languages written with the Latin alphabet