Onondaga (Onǫda'gegá' / Onoñda'gegá')
Onondaga is a Northern Iroquoian language with about 50 speakers on the Six Nations Reserve near Brantfod in Ontario in Canada, and south of Syracuse in central New York state in the USA. The language is used when presenting laws and ideas before the council of the Onondaga Nation, and for chief titles and the recitation of the laws. Songs are also sung in the language.
The Onondaga Nation was one of the original members of the Iroquois League (Kanonsionni) along with the Mohawk, Seneca, Cayuga and Oneida. They were later joined by the Tuscarora, and refer to themselves as Haudenosaunee ("people of the longhouse") or Six Nations.
Until the 1930s Onondaga was spoken by the almost all of the Onondaga Nation. Young Onondagas were ridiculed at school for speaking their language and a shift to English began. When they grew they did not pass the language to their children as they did not want them to go through the same experiences and school. During and after World War II many people left their territory and found that they needed to speak English.
Onondaga has been taught in schools since the 1980s, however students cannot receive credits for it. There are also classes for adults. An Onondaga dictionary was published in 2003, and is used in classes.
Each of the Onondaga communities has their own way of writing their language, with only minor differences between them. Where there are differences, the Six Nations orthography is shown first below.
Onondaga alphabet and pronunciation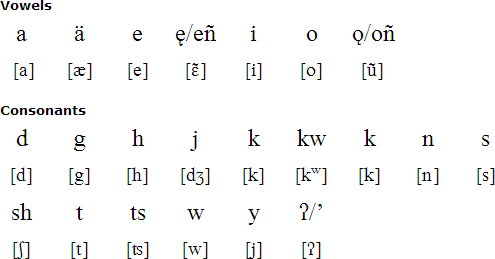 Notes
/d/ and /g/ are allophonic versions of /t/ and /k/, and are written d and g when they are voiced (before vowels and n, y and w
Vowels can be long or short, and long vowels are marked with a colon, 〈:〉, or raised dot 〈·〉.
Stress is indicated by and acute accent (á ä́ é)
Sample text in Onondaga
Tsa'degaya' dagwe:dí:yo'
Ganá:ye:da
Gayá:nä:sä
Translation
Equality ("matters of equal level")
Dignity ("A sense of pride, honour")
Rights ("The power of goodness")
Source: http://www.cthr-mcdp.com/plaques/Onandaga.html
Links
Information about the Onondaga people and language
http://en.wikipedia.org/wiki/Onondaga_language
http://fr.wikipedia.org/wiki/Onondaga_(langue)
http://www.languagegeek.com/rotinonhsonni/onondaga.html
http://www.onondaganation.org/culture/language.html
http://www.turtletrack.org/Issues03/Co12272003/CO_12272003_OnondagaRescue.htm
Iroquoian languages
Cayuga, Cherokee, Mohawk, Oneida, Onondaga, Seneca, Tuscarora, Wynadot
Other languages written with the Latin alphabet