Omniglot projects
This page contains details of projects currently being undertaken at Omniglot.
---
Numbers in numerous languages
Can you supply translations and/or recordings of numbers in your language(s) for the numbers section?
---
Useful phrases
Can you provide new translations of phrases, help fill in the gaps in phrases pages, and/or make corrections to existing pages?
Can you provide translations of the following phrases?
I don't speak [your language]
Do you speak English?
Don't worry
Don't panic!
Would you like to see other phrases included in the phrases section? If so, which ones?
Please contact me if you can help.
---
Recordings
It would wonderful to have recordings of all the useful phrases, idioms, language and country names, sample texts and other multilingual texts on this site.
If you make recordings of any of these in you native language, or know others people who can, please contact me. You can see which phrases and sample texts already have recordings here.
It would be great to have recordings in a variety of dialects and accents for each language, including standard and regional varieties.
You can record and edit audio files online with Myna Audio Editor or you could download a free audio editor like Audacity. Other audio editors are available here
---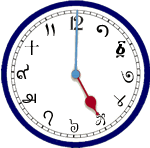 Multilingual clock
I am collecting translations of time expressions, and plan to use them to construct a multilingual clock which will show you how to tell the time in as many languages as possible, similar to the one here. This spreadsheet contains all the translations collected so far. I also have recordings of the Catalan phrases.
Can you help by sending translations and/or recordings?
The recordings don't have to be of every phrase in the spreadsheet, but of enough parts of phrases so that I'll be able to splice them together. Please contact me if you can help.
---

Colours
I am collecting colour words in as many languages as possible for this section of Omniglot. So it would be really helpful if you could send me all the colour words you know in your language(s).
It would be interesting if you could also indicate:
Which of the colour words are most commonly used
Whether any of them represent different colours than the English words
Whether any of them have special signicance in your culture, e.g. white for weddings and purity, green for envy, yellow for cowardice, etc.
Any interesting proverbs, sayings or other idiomatic expressions involving colours you know in your language(s).
There are currently individual pages about colours in the following languages:
Afrikaans, Arabic, Dutch, Filipino, French, German, Irish, Italian, Korean, Spanish, Tuvaluan, Vietnamese and Xhosa