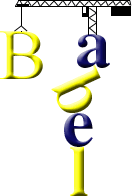 The Tower of Babel (Genesis 11: 1-9)
Iban
Menara Babel
Terubah iya kelia, orang di dunya tu bejaku ngena siti aja jaku.
Lebuh sida segau-segau bejalai di Timur, sida datai ba emperan menua Babilon, lalu ngentapka diri dia.
Ku sida berandau enggau pangan diri, "Aram kitai ngaga batu bata, lalu nunu batu bata nya ngambika kering." Nya alai sida bisi batu bata ti dipejantilka sida ngena tar.
Ku sida bejaku, "Aram kitai ngaga sebuah nengeri, enggau sebuah menara ti bediri nyentuk ke langit, ngambika kitai tampak nama, lalu enda pambar di serata dunya."
Udah nya TUHAN nurun, deka meda nengeri enggau menara ti udah digaga sida,
lalu ku Iya bejaku, "Sida tu sama sebansa magang, lalu bejaku ngena siti aja jaku. Tu semina pun ke semua utai ti deka dikereja sida. Enda lama da agi sida ulih ngaga sebarang utai ti dikedekaka sida!
Aram Kitai nurun lalu nyarutka jaku sida, ngambika sida enda meretika utai ti disebut pangan diri."
Nya alai TUHAN ngachirka sida di serata dunya, lalu sida badu agi ngaga nengeri nya.
Nengeri nya dikumbai Babel, laban TUHAN udah nyarutka jaku semua mensia di nengeri nya, lalu ari nya Iya ngachirka sida di serata dunya.
Source: Pemungkal (Genesis). Bup Kudus. The Bible Society of Malaysia, 2010.
Contributed by Wolfgang Kuhl
Information about Iban | Iban phrases | Iban numbers | Tower of Babel in Iban
Tower of Babel in Malayo-Polynesian languages
Acehnese, Adzera, Amarasi, Ambrym, Anuki, Are, Balinese, Bambam, Bariai, Batak Angkola, Batak Simalungun, Batak Toba, Biatah Bidayuh, Bola, Bugis, Caribbean Javanese, Dawan, Fijian, Helong, Hiri Motu, Iban, Indonesian, Jarai, Kadazandusun, Kahua, Kakabai, Kambera, Kaninuwa, Kenyah, Kurti, Javanese, Luang, Madurese, Makassar, Malagasy, Malay, Mbula, Misima-Paneati, Motu, Nali, Ngaju, Nias, North Efate, Nyindrou, Paama, Palawano, Rade, Rotuman, Saveeng Tuam, Suau, Sundanese, Timugon Murut, Tolai, Tontemboan, Toraja-Sa'dan, Tungag, Ubir, Wandamen, Yabem
Other Tower of Babel translations