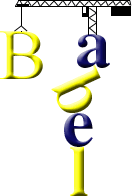 The Tower of Babel (Genesis 11: 1-9)
Ndrukul (Kurti)
Tawa Odo Babel
Idu ndruwen wo ideh ti pe ndramat hondrohor hanna sulo-on, odoke nolwo-o' su ti mapwi handrai kopwi.
Su hala wuron rai ea pe hamandro hodo lok sehir mandra-an pe malahan ise Babilonia.
Su hopunou ihpah, "Tidu titakun poi palat pe tidapisii. Kinum pe titulmwi poi erti kihir pidikis." Pat sulo-on hondroto lok kurti pwi, ile pe su hopo pidikis ile tumwe um. Su hentawe kolta ile lengan pidikis pe indrotowei inehndrepit.
Inum pe su hapa ihpah, "Tidu kah tidahnan sih taon, pe tidehtong sih tawa elwe-en kile ndre parar eleng. Kile pe ranga' tidu kihnding, pe titsarpat kile pule-en lokpoi ndresih kolwii."
Odoke Lapan ise pwoi pe isendre-et taon pe tawa ndre sa ndramat henehtong kurtih.
Lapan ipe ihpah, "Su ke hokor pe nolwo-o' su ke handrai, ile pe su hompo sane kutih. Omur ti su we hanon hopo sane ndre sulo-on kile reh ta su.
Atsa. Tidu titla pwoi pe titsopelwen nolwo-o' su kidut, kile pe su homou kihrungi homou kolwii."
Ile pe Lapan ihnan su hatpar hala hemir hemir, pe su hasarpat hala lokpoi ndre mandra-an, pe su hendrendrumwi marai odo taon ti pwi.
Lok kuti rangan ile Babel*, odosa Lapan isopelwen nolwo-on taha ndramat ndre sulo-on, pe ihnan ndramat hasarpat hala pule-en lokpoi ndresih.
*Babel: Ile nolou Hibru eri Babel ti ihpa ndre nolou handrai ile ke lo handrai.
Source: Buk Baibel long tok ples Kurti long Niugini. Genesis, Mark, Galatians, and 1 Timothy in the Kurti Language of Manus Province, Papua New Guinea. Wycliffe Bible Translators, Inc., 2011.
Contributed by Wolfgang Kuhl
Information about Kurti | Tower of Babel in Kurti
Tower of Babel in Malayo-Polynesian languages
Acehnese, Adzera, Amarasi, Ambrym, Anuki, Are, Balinese, Bambam, Bariai, Batak Angkola, Batak Simalungun, Batak Toba, Biatah Bidayuh, Bola, Bugis, Caribbean Javanese, Dawan, Fijian, Helong, Hiri Motu, Iban, Indonesian, Jarai, Kadazandusun, Kahua, Kakabai, Kambera, Kaninuwa, Kenyah, Kurti, Javanese, Luang, Madurese, Makassar, Malagasy, Malay, Mbula, Misima-Paneati, Motu, Nali, Ngaju, Nias, North Efate, Nyindrou, Paama, Palawano, Rade, Rotuman, Saveeng Tuam, Suau, Sundanese, Timugon Murut, Tolai, Tontemboan, Toraja-Sa'dan, Tungag, Ubir, Wandamen, Yabem
Other Tower of Babel translations
By language | By language family