Greek Arabic (Αλ-γ̲αραπυιιατȣ λ-ιωνάνυιιαχ̌)
Greek Arabic (al-ʿArabiyyatu-l-Yūnāniyya) is the adaptation of Greek script for writing Arabic devised by Mohammad Shakeb Baig. It is designed for Modern Standard Arabic, but can also represent Classical Arabic and colloquial varieties of Arabic.
Notable Features
Type of writing system: alphabet
Direction: left to right in horizontal lines
Used to write: Modern, Classical and colloquial Arabic
Some Greek vowels are used as pure consonants
Caron and under-lining are used to derive new letters
Greek Arabic alphabet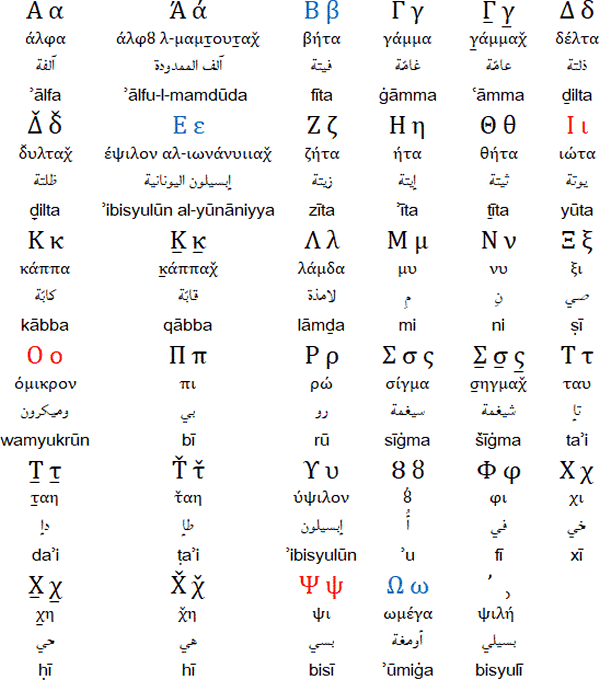 Notes
Letters marked in blue are only used in loanwords.
Letters marked in red can be used as pure consonants or combination of a consonant and vowel.
Bisī is used to write consonant pair بس (bs) with or without short vowel in between.
Letters sīġma and šīġma have two lowercase forms. The first lowercase form (σ and σ̲) is used in non-final positions. The second lowercase form (ς and ς̲) is used in word-final position.
Modifiers
Glottal stop (hamza) is marked by bisyulī (smooth breathing ᾿) over vowel letter following it. If glottal stop is word final or follows consonant, then it is marked by hypodiastole (⸒), which can appear after or below previous vowel.
Hypodiastole can also be used to separate two consonants to prevent them to be read as a multigraph.
Punctuation
Modern Greek punctuation is used. However, since diastole resembles comma, ano teleia (·) is used where fāṣila (،) is expected. Double dotted symbol (⁚) is used when fāṣila manqūṭa (؛) is expected.
Capitalization rules of Modern Greek are followed.
Definite Article
If a word contains hyphen after first consonant in the word, then it has definite article.
If it is first word in the sentence, it is written like Αλ-χαοχ (al-xawx) or Αθ-θαγ̲λαπ (aṯ-ṯaʿlab).
If it is middle or last word in sentence, it is written like ταγ̲ρηφȣ λ-γ̲αχ̌τ̱ (taʿrīfu-l-ʿahd) or Ȣ̓χ̲υππȣ σ-συπάχ̲αχ̌ (ʾUḥibbu-s-sibāḥa).
For letters sīġma and šīġma, the forms σ- and σ̱- are used before hyphen respectively.
As an exception, word الله Allāh is transliterated without hyphen:

When it is first word, it is written like this: Αλλάχ̌ȣ Ἀκπαρ (Allāhu ʾAkbar)
Otherwise, it is joined to the previous word and capitalized: Νυγ̲ματαλλάχ̌υ (niʿmata-l-lāhi)
Pronunciation - Consonants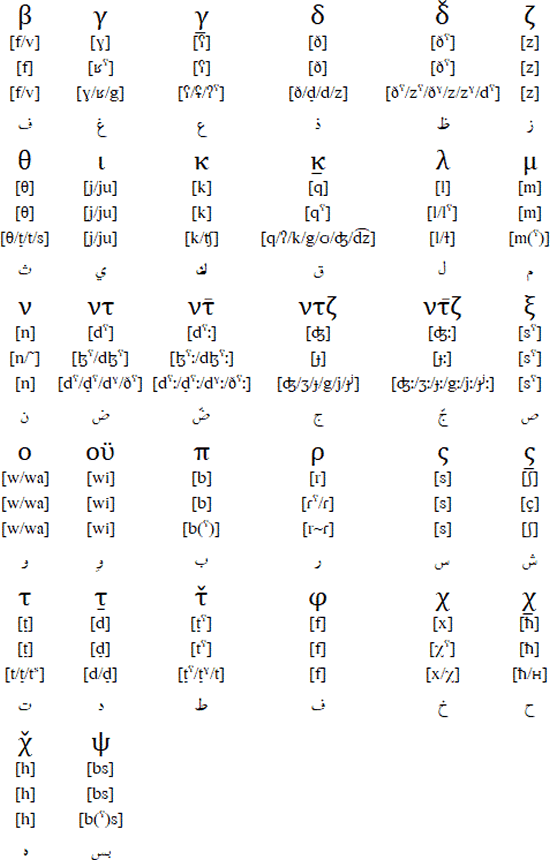 In this table the pronunciation of all consonants is given. The first row contains pronunciation in Modern Standard Arabic. The second row contains pronunciation in Classical Arabic. The third row contains pronunciation in modern Arabic dialects. The fourth row contains corresponding Arabic letters.
For lengthening the consonants written as single letter, the consonant is doubled: ρȣμμάν (rummān)
For lengthening consonants written as diagraph and trigraph, the macron is added on it. The macron on τ̄ is enough in print, but it can cover all letters in handwritten text: αλ-χ̲αντ̄ζ (al-ḥajj).
If the word with definite article starts with ض, it does not have hyphen: λȣγατȣ ντ̄άτ̱ (luġatu-ḍ-ḍād)
Examples of ψ: ψητ̌ basīṭ , γ̲αψα ʿabasa
Pronunciation - Vowels
In this table, pronunciations of vowels are given with same convention as consonants.
Loanwords
For loanwords that contains the sounds of blue letters in first chart, those letters are used. For example: Νωβαμπαρ (Nōvambar), σ̱εκ (šēk).
Arabic words of Greek origin can be orthographically simplified by using blue and basic Greek letters. For example, صندوق ṣandūq can be phonetically transcribed as ξαντ̱ουκ̱ . But since it is derived from συνθήκη synthece, it can be spelled as ξανθηκ.
Sample Text in Classical Arabic

Arabic script version
فَلْيَنظُرِ ٱلْإِنسَـٰنُ إِلَىٰ طَعَامِهِۦٓ ﴿٢٤﴾ أَنَّا صَبَبْنَا ٱلْمَآءَ صَبًّا ﴿٢٥﴾ ثُمَّ شَقَقْنَا ٱلْأَرْضَ شَقًّا ﴿٢٦﴾ فَأَنۢبَتْنَا فِيهَا حَبًّا ﴿٢٧﴾ وَعِنَبًا وَقَضْبًا ﴿٢٨﴾ وَزَيْتُونًا وَنَخْلًا ﴿٢٩﴾ وَحَدَآئِقَ غُلْبًا ﴿٣٠﴾ وَفَـٰكِهَةً وَأَبًّا ﴿٣١﴾ مَّتَـٰعًا لَّكُمْ وَلِأَنْعَـٰمِكُمْ ﴿٣٢﴾ فَإِذَا جَآءَتِ ٱلصَّآخَّةُ ﴿٣٣﴾
Transliteration
Falyanḏ̣uri-l-ʾinsānu ʾilā ṭaʿāmihī - ʾAnnā ṣababna-l-māʾa ṣabban, Ṯumma šaqaqna-l-ʾarḍa šaqqan, Faʾanbatnā fīhā ḥabban Waʿinaban waqaḍban Wazaytūnan wanaxlan Waḥadāʾiqa ġulban Wafākihatan waʾabban - matāʿan lakum waliʾanʿāmikum. Faʾiḏā jāʾati-ṣ-Ṣāxxa.
Translation
Then let mankind look at his food - (24) How We poured down water in torrents, (25) Then We broke open the earth, splitting [it with sprouts], (26) And caused to grow within its grain (27) And grapes and herbage (28) And olive and palm trees (29) And gardens of dense shrubbery (30) And fruit and grass - (31) [As] enjoyment for you and your grazing livestock. (32) But when there comes the Deafening Blast (33)
(Qur'an 80:24-33)
Sample Text in Modern Standard Arabic

Arabic script version
يولد جميع الناس أحراراً متساوين في الكرامة والحقوق. وقد وهبوا عقلاً وضميراً وعليهم أن يعامل بعضهم بعضاً بروح الإخاء.
Transliteration
Yūladu jamīʿu-n-nāsi ʾaḥrāran mutasāwīna fi-l-karāmati wa-l-ḥuqūq. Waqad wuhibū ʿaqlan waḍamīran waʿalayhim ʾan yuʿāmila baʿḍuhum baʿḍan birūḥi-l-ʾixāʾ.
Sample Text in Tunisian Arabic

Arabic script version
الناس الكل مولدين حرين و متساوين في الكرامه والحقوق. تعطاو عقل و ضمير و لازم يعامل بعضهم كيف الاخوا.
Transliteration
In-nès il-kull muludìn ħurrìn w mitsèwìn fi'l-karàme w'il-ħuqùq. Tagħŧàw għqal w żamìr w lèzim ygħàmlu bgħażhum kìf l-axwa.
Translation
All human beings are born free and equal in dignity and rights. They are endowed with reason and conscience and should act towards one another in a spirit of brotherhood.
(Article 1 of the Universal Declaration of Human Rights)
Adapated scripts by Mohammad Shakeb Baig
Arabic Greek, Greek Arabic, Latin Arabic, Roman Rekhta
Other adaptations of alphabets
Information about Arabic | Phrases | Numbers | Tower of Babel | Articles | Links | Learning materials | Books about the Arabic script | Arabic electronic dictionaries and translators
Information about Greek | Phrases | Numbers | Family words | Time | Idioms | Proverbs | Tongue twisters | Tower of Babel | Articles | Links | Learning materials | Books about the Greek alphabet
Constructed scripts for: Ainu | Arabic | Chinese languages | Dutch | English | Hawaiian | Hungarian | Japanese | Korean | Lingala | Malay & Indonesian | Persian | Tagalog / Filipino | Russian | Sanskrit | Spanish | Taino | Turkish | Vietnamese | Welsh | Other natural languages | Colour-based scripts | Tactile scripts | Phonetic/universal scripts | Constructed scripts for constructed languages | Adaptations of existing alphabets | Fictional alphabets | Magical alphabets | A-Z index | How to submit a constructed script
[top]
---

Why not share this page:

If you like this site and find it useful, you can support it by making a donation via PayPal or Patreon, or by contributing in other ways. Omniglot is how I make my living.
Note: all links on this site to Amazon.com
, Amazon.co.uk
and Amazon.fr
are affiliate links. This means I earn a commission if you click on any of them and buy something. So by clicking on these links you can help to support this site.
Get a 30-day Free Trial of Amazon Prime (UK)
If you're looking for home or car insurance in the UK, why not try Policy Expert?
[top]