Languages are classified into families, meaning that all the languages within a particular family are known to have or thought to have developed from a common ancestor.
For example, the Romance languages, such as French, Spanish, Italian and Romanian, all developed from Latin. They are one branch of the Indo-European language family, along with Germanic, Slavic, Celtic, Baltic, Indo-Aryan and other languages. It is believed that they all developed from a common ancestor known as Proto-Indo-European, which has been reconstructed.
Some languages have no known relatives and are known as language isolates. Examples include Basque, Ainu and Hadza.
Writing systems can also be classified into families. For example the Latin, Greek and Cyrillic alphabets all developed from the Phoenician script, which developed from the Proto-Sinaitic / Proto-Canaanite script, which was based on the Ancient Egyptian Hieroglyphic and Hieratic scripts.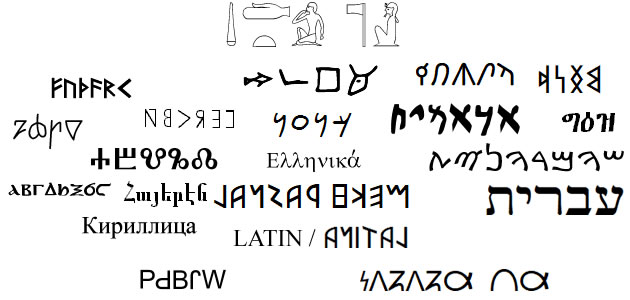 In fact, most alphabetic scripts in use today come from the same Ancient Egyptian roots, or were inspired by or based on scripts from those roots.
Sometimes there is some debate about which family writings systems belong to, and whether they can be considered separate scripts, or variants forms of one script.
For example, there are many variants of the Latin script, such as Roman Cursive, Rustic Capitals, Basque-style lettering, Carolingian Minuscule, Fraktur, Irish Uncial, Merovingian and the Visigothic Script.
There are also many different scripts that are or were used in the Philippines. Some are considered regional variants of the Baybayin / Tagalog script, while others are considered separate scripts. For example, variants of Baybayin include Badlit, Kulitan and Basahan.
Are they separate scripts, or different versions of the Latin/Baybayin script? Does it matter? Who decides?
I'm putting together an index of writing systems on Omniglot arranged into families. It's not quite finished yet though.