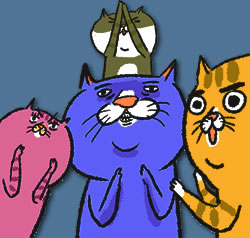 I learnt today, via the podcast Something Rhymes with Purple, that in Scots the word clap [klɑp] doesn't mean quite the same as in English. The example they give is "Can A clap your dug?", which isn't asking if you applaud the pooch, but in fact means "Can I stroke/pet your dog?".
As a noun, clap means a heavy blow or stroke, or an affectionate pat (more caressing than the English clap). For example, "My mither wad gie his bit headie a clap" (My mother would give his little head a pat/stroke). Then there's in a clap, which means in a moment.
As a verb, clap means to pat affectionately, caressingly, approvingly; to press down, flatten; to flop, couch, lie down (of a hare); to adhere, cling, press (against).
Here are some examples of how it's used:
And [he] clappit her on the shooder = And he patted her on the shoulder
He was sair clappit doun = He was very depressed
Wearying for a resting place, Doun on the steeple stairs I clappit = Tiring for a resting place, down the steep stairs I flopped
clap comes from the Old Norse klapp (to pat, stroke gently, chisel, hew).
The English words clap comes from the Middle English clappen (to make a loud noise; to pound, slap, strike, slam), from the Old English clæppan (to throb), from the Proto-Germanic *klappōną (to strike, pound, make loud noises, chatter), which is thought to be of onomatopoeic origin.
From the same root we get such words as:
German: klappen = to clap, fold, flip, bend, work out
Dutch: klappen = to clap, applaud, smack, crack, burst, fold, wag one's lips, talk
Danish: klappe = to clap, applaud, pat
Swedish: klappa = to pat (sb on the shoulder), to pet (a cat), to clap
French: clapper = to click (the tongue)
Sources: Dictionary of the Scots Language / Dictionar o the Scots Leid, Wiktionary