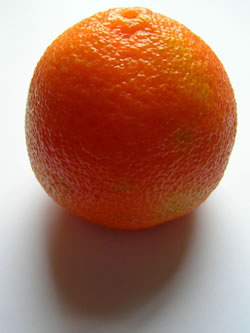 In Romanian the word for orange (the fruit) is portocală [portoˈkalə]. This comes from the Greek πορτοκάλι (portokáli – orange), from the Venetian portogallo (orange), from the Italian Portogallo (Portugal).
An number of other languages get their word for orange from the same root:
– Albanian: portokall
– Amharic: ብርቱካናማ (biritukanama)
– Arabic: برتقال (burtuqaal)
– Azerbaijani: portağal
– Bulgarian: портокал (portokal)
– Georgian: ფორთოხალი (p'ort'okhali)
– Macedonian: портокал (portokal)
– Persian (Farsi): پرتقال (porteghâl)
– Turkish: portakal
Portuguese merchants were probably the first to introduce oranges to Europe, hence the link between oranges and Portugal.
In some languages oranges are known as "Chinese apples": Apfelsine (German), appelsien / sinaasappel (Dutch), apelsin (Swedish), etc. This makes sense as oranges were first cultivated in China in about 2,500 BC.
Words for oranges in some Slavic languages come from the Old French pomme d'orenge: pomeranč (Czech), pomaranča (Slovene), pomarańcza (Polish).
The word orange derives from नारङ्ग (nāraṅga) – "orange tree" in Sanskrit, which is probably of Dravidian origin. The word for orange in Portuguese, laranja, comes from this root.
The colour orange was named after the fruit. In Old English the colour orange was referred to as ġeolurēad (yellow-red), or ġeolucrog (yellow-saffron) [source].
Souces: Wiktionary, WordReference.com, Google Translate, Wikipedia, Flickr