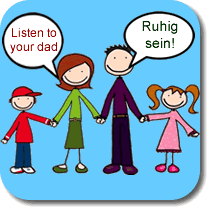 This post is based largely on an article by Francois Grosjean: https://www.psychologytoday.com/blog/life-bilingual/201504/one-person-one-language-and-bilingual-children
One popular way to raise bilingual children is for each parent to speak only their native language with their children. For example the father will speak English and the mother will speak Spanish, and the children will acquire both languages. At first the children might mix the languages, but they will soon come to associate one language with each parent. There is also a belief that if the parents mix languages, e.g. the Spanish-speaking parent sometimes speaks English, and the English-speaking parent sometimes speaks Spanish, the children will get confused.
Problems with the OPOL approach
There are problems with the OPOL approach – children is likely get more exposure to one language then to the other, and one language is likely to become dominant. The children may come to prefer that language, especially if both parents speak it, and the children may be able to understand but not speak the non-dominant language. This is quite often the case with minority languages like Welsh and Irish.
It can also be difficult to stick to OPOL when other people are around who only speak one of the languages. For example, if a Spanish/English family is with Spanish-speaking friends, does the parent who only speaks English with the children stick to English, even though the friends might not understand, or do they switch to Spanish? Parents can find such situations stressful and might adapt their approach to context and be more flexible rather than sticking rigidly to OPOL.
Does the OPOL approach actually work?
There are have been a number of the OPOL approach, including a notable one of 2,000 families by Annick De Houwer, which found that children in a quarter of the families did not become bilingual, and that in families where parents mixed languages, as many children became bilingual as in OPOL families.
What is the OPOL approach based on?
Given the popularity of the OPOL approach, you might think that it's based on sound foundations of research and testing. This is not the case. It has probably been around for a long time, but the first reference to it in modern linguistic literature is in a book from 1913 by Jules Ronjat, a French linguist with a German wife. In 1908, when his son was born, Ronjat asked his colleague, Maurice Grammont, for advice on raising his son bilingually. In a letter Grammont advised Ronjat to speak only French to his son, and for his wife to speak only German. Since then many other people have discussed the OPOL approach, and often cite a book by Grammont, Observations sur le langage des enfants (Observations on Children's Language) which was supposedly published in 1902, however does not in fact exist, according to François Grosjean. So the OPOL approach is based on the opinion of Maurice Grammont, who published nothing on language acquisition, as expressed in a letter to his colleague Jules Ronjat.
Have you tried or are you trying the OPOL approach?
Did it work / is it working for you?
What problems have you had with it?
Links
Life as a Bilingual: The reality of living with two (or more) languages (by Francois Grosjean, and Aneta Pavlenko)
https://www.psychologytoday.com/blog/life-bilingual
Links to websites with information and advice about raising children bilingually
http://www.omniglot.com/links/bilingual.htm#kids
Articles about bilingualism
http://www.omniglot.com/language/articles/index.htm#bc